Balcony is among the most neglected areas of most households. Although it might be used on a regular basis people often tend to neglect the place or decorate it to look much better. Some people might be delighted to know that implementing some effective balcony furniture ideas could help in adding a touch of elegance to their homes.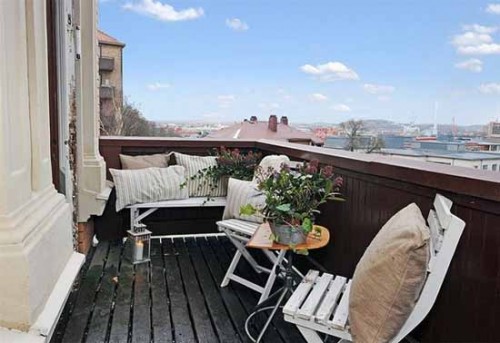 Know the purpose
Before zeroing down in any modern furniture, one should first know the purpose of putting that particular furniture in the balcony. They should know whether they'll be putting items for dining or some comfortable seating options. This is important as it will help in choosing furniture according to the functionality. Also, it will ensure that every small space gets fully utilized.
Choose slimmer styles
Modern furniture may be a bit on the bulkier side, but a lot of them are styled in a slimmer fashion as well. If one is looking to utilize the smaller spaces then this option can be perfect for them. Streamlining the options will leave them with the functionality they are looking for and also the style they had desired. Bulkier pieces need to be strictly avoided here.
Double function
When one is trying to decorate their balcony or outdoor space, an ideal way to get the maximum from a piece is by choosing such items which can play a dual role. For example, a bistro table is a great choice but ottoman tables will be the better choice as they will be serving the purpose of resting the meal besides providing an additional seating option. Such diverse pieces help in doubling or tripling up their purposes without compromising with the space.
Silhouette can be a great option
Slim options can prove to be a wonderful choice, but for a far greater impact, they should be having a silhouette. Using silhouettes and clean lines that are both stylish and sleek can help in giving the balcony an awesome look. One should be choosing pieces which are more linear in design. Doing so would help in keeping the space looking tailored, clean and simplify managing the clutter as well.
Reflection
At the time of decorating the balcony or patio, one should make sure that they are choosing pieces that can reflect light. Pieces and accessories that are mirrored allow the sunlight and light from lamps and candles to be reflected. Apart from brightening up the area, it also helps to make the space look bigger. Metallic items that are powder coated reflect light and also serve the purpose of making things appear big as well.
Privacy
Most sought-after balcony furniture ideas are a complete waste, if one is not considering the role of privacy. It plays a big part if one is living in an apartment or a townhouse. This is important especially for those who share a common balcony barrier or some outside eyes trying to get an access to the terrace. One can easily stay away from all troubles by putting up a screen without affecting the modern design of the place. Also, one can use plants to act as shield which would make the place look beautiful as well.