The outdoor furniture for dining has to be selected with utmost care. The upholstery for home needs is to be placed inside the four walls and under the roof. In case of the outdoor dining furniture, you should keep in mind that they have to face rain and harsh weather conditions and in that quality products should be your choice. But you need not compromise style and design as there are abundant choices available in different colors and styles. Finding a perfect piece of furniture that is durable and also appeases your preferences is not a hassle. However, there are various factors that you need to consider when you are in the process of buying your outdoor dining furniture.
How to choose
When you have decided to buy outdoor dining tables chairs and other furniture, make sure that the furniture blends with your lifestyle. Choose the one that is cozy. Though many feel that only certain weather is suitable for dining out in the garden or patio and the furniture needs not be elegant or comfortable, it is essential that the hours you spend should be enjoyable. If you choose furniture that is cheap, you would be compromising the quality. Quality upholstery is needed as the furniture should be able to withstand wear and tear. If you have kids at home, dining furniture has to be sturdy. Enjoying parties is a favorite hobby of many and if you are one among them then your dining upholstery for outdoors should be robust.
Materials
Outdoor furniture is available in a large variety of materials. Wrought iron, wicker and rattan and wood are popular choices. All the aforementioned tips are to be taken into consideration even when you choose these materials. Find what the various materials have in store for you.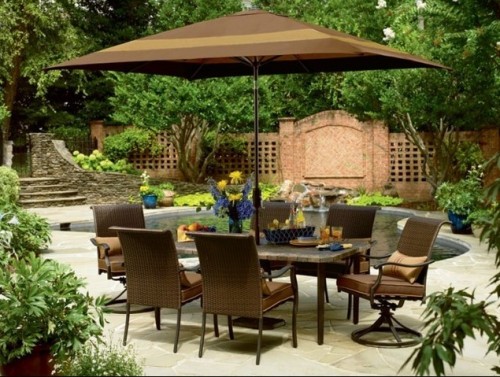 Wrought iron
This sturdy and robust material is often seen in classic style outdoor dining furniture. It is also durable and you can find furniture mounted on wheels to make it easier to move around. The downside is that this material needs more maintenance. Rust protection application, frequent paints, and a maintaining the furniture without any cracks is necessary.
Wicker and rattan
Most suited for classical style of outdoor dining upholstery, these materials are durable, sturdy and can withstand extreme climatic conditions. Plastic resin is also available which is also a more durable choice. You can find these materials in striking colors, and are very cozy. If you do not place the furniture under a roof you need to choose the fabrics that are resistant to the climatic conditions. You need to dust this upholstery occasionally to stop dust built up in the curves.
Wood
Sturdy, solid and available in various color ranges, wood is a favorite for most of the homeowners for all sorts of furniture needs. You can choose from oak, pine, cypress and eucalyptus. This material can withstand any climate and it is more efficient in this sector, compared with the rest of the materials. Use pest control to save the material. Occasional cleaning with water and mild detergents can make the material even more durable.