Outdoor furniture can become quite confusing when you consider all of the different styles and designs that can be found.  Couple that an abundance of unique names and you might be lost when trying to figure out exactly what you are searching for.  Well, this article is intended to answer all of your questions about the different types of outdoor furniture and provide you with an understanding the development of these designs!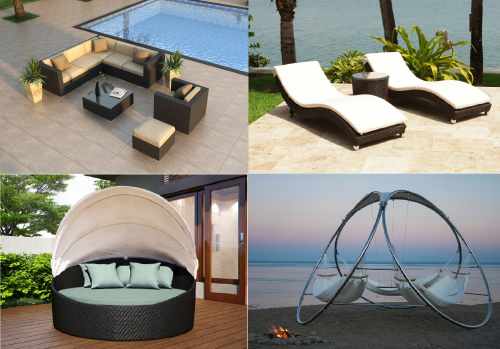 images via Patio Productions
Chaise Lounge Chairs
Crafted to inspire activities of leisure, the chaise lounge chair induces a sense of calm and relaxation that is naturally enveloped into the architecture of this unique piece.  In essence, the chaise lounge is a chair with an extended base that allows you to perch your feet comfortably on the furniture without the need for an additional ottoman or footrest.  If you've been to the pool, chances are you've unknowingly seen a chaise lounge chair.  These are extremely common for poolside arrangements, ideal for tanning and soaking in the sun!
Made for casual encounters, the chaise lounge chair offers the ultimate sense of elegance and luxury living!  This unique dimension is believed to have evolved through the fusion of outdoor day beds and traditional chairs.  The end result is mid-sized piece of furniture that is easy to transport and equally spacious.  Often times the seat-back of the lounge is adjustable, allowing users to relax in multiple positions ranging from the upright position to a setting that creates a mini-bed!
Sofa Sectional Sets
Sofa sectionals are the most common piece of outdoor furniture.  Available in a variety of different styles and configurations, these sets offer a level of flexibility that allow you to craft your outdoor arrangement according to your unique dimensions.  Turn your personal patio into an outdoor living oasis today!
Chat Sets
Chats sets include 2 chairs and a petite side-table or ottoman.  As the name implies, this type of outdoor furniture is intended to encourage "chatting" with yourself and another individual.  Offering privacy, convenience, and functionality, chat sets can be a great addition to any outdoor living arrangement.  Chat sets can be found in modern or antique styles and fabricated out of materials that include synthetic wicker, aluminum frames, plastic, or even vintage wrought-iron.
Outdoor Day Beds
Outdoor day beds provide the perfect nook for you to enjoy the great outdoors.  Perfect for reading books, napping, or catching a quick tan, day beds come in a variety of different shapes and sizes.  Choose from full sized, half-moon, and low-profile configurations.  Outdoor furniture has begun to show an increasingly intimate architecture that results in many unique designs and styles that have been influenced by diverse time periods, cultures, and artistic inspirations.
Bar Sets
While the idea of the bar set is quite common, what is more uncommon is the variety that is available to consumers.  Bar sets can be found in small or large sets depending on your application.  A full-sized bar complete with a spacious bar table and plenty of chairs can be a wonderful addition to your outdoor living room; perfect for catching the game with friends!
If you are searching for something more casual in mind, smaller private bar sets are available with seating for a small party.  These can work great when space is limited.  Styles range from modern to vintage and everything in between!  Depending on the overall theme of your outdoor space, you can find something that is fitting to your decor.
As you can imagine, your standard bar stool is characterized by a narrow base and high seating that was originally intended for public places.  Being adopted into traditional home designs, many homeowners have simply decided to bring the party home!
Dining Sets
Outdoor dining sets are similar to their indoor counterpart but they have a few unique characteristics that are incorporated in order to achieve the highest level of durability.  Outdoor dining sets must use materials that are rust resistant in order to accommodate for changing weather conditions.  It's important to note that not all outdoor sets hold this quality so it is imperative that you practice due diligence in order to ensure the quality of your purchase.
Hammocks
Hammocks are a playful piece of outdoor furniture that is often romanticized in movies and books.  Originally invented by Native American and discovered by Spanish Colonists, hammocks have been around for centuries and evolved from a simplistic device to something that encourages creativity and imagination.
Typically constructed out of a single piece of fabric that is hoisted between two adjacent points, hammocks are an integral element of the outdoor experience.  Being suspended in air is often credited for providing a sense of freedom.  New styles of hammocks have put a new twist on an old concept by creating hammocks that dangle in the air from a single centered point.  Other combinations include a new 3 seater hammock that offers the luxury living at its finest, allowing you to literally "hang out" with 2 of your closet of friends!