Living room furniture can be chosen easily if you know what you require and what suits the room perfectly. You should consider among the loads of choices, from materials to the colors. Your family size, space of the living room, and traffic are some of the vital factors to be considered before you choose any furniture for the living room. Start with a perfect plan. This means you need to measure the size, find the functionality and come up with a plan so that the furniture doesn't restrict the movement later on. Take in the views of your family members too as they might have some cool plans in their mind. Most importantly know what are the steps involved in investing in the living room furniture.
Determine the family size
At the minimum all the living rooms would have a couch, sofa, coffee table and a side table. When you want to choose these think about the members of the family and how helpful the furniture might be for them. If there are kids in the home then you can choose a coffee table that functions as a table to do some school projects. The same way, if you happen to lie around the living room a lot, then a couch that can act as a bed too is a perfect choice. Think about how the coffee tables and couch can be accommodated. If you have a smaller living room you would need a coffee table that serves multiple purposes. It needs to hold the newspapers and should be used as a table to keep your laptops while you work.
Choose versatile furniture
When you want to find the best living room furniture, you would be obviously looking for the current trends. But always look for trends that also are versatile as this is important especially if you have a smaller living room. You would be looking for stylish upholstery, but you can still find furniture that is durable and can be used in different ways.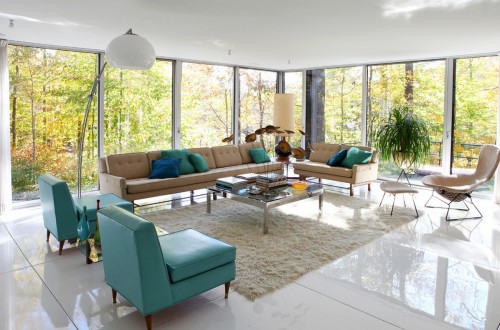 Vibrant colors
Colors that are bold and vibrant are the latest trends. You can choose any of them from bright pink to shiny red. It is all about what you prefer. But ensure that the colors go well with the rest of the interiors and the entire house. You need to always find the colors that match the interiors. Even contrasting colors are great and when you want your living room furniture to look lively, bright and vibrant colors are best options. Finding furniture of alternate colors too is a good idea. For instance, your coffee table can be a shade of brown and your couch can have a hint of red and brown. They suit well and certainly attract the eyes of the visitors. Besides this, the alternative color combo makes your living room look larger.
Choice of materials
Wood is the best choice, if you want the living room furniture to be durable. But wrought iron, plastic and other metals have replaced wooden furniture to a great extent. Stylish and trendy upholstery go well with wrought iron furniture. Always make sure that you decide the materials after giving a second thought about the ease of maintenance.