There are boundless options for anything and everything when it comes to decorating your home. The same is applicable to the drawing room sofas. Until you enter into the showroom, you might think that you know your needs and can choose the best couch for your living room in a couple of minutes. But the choices are abundant leaving your confused. If you would like to save money and time then you can find a few tips to identify the best sofa for your living room. Remember, living room like bedroom is not for personal space, but shows your preferences to whomever steps into your doors.
Consider the size
The size of your living room is what you need to think about as the first factor. In a larger living room, you need to decide what amount of space the sofa should fill in. Take into mind not only the drawing room sofas, but also other couches, chairs and the coffee tables. If you do not prefer other pieces of furniture, then go with a simple sofa that is L shaped. Round shapes are best choices if your couch has to be the center of attraction of your living room. Any shape and design happens to be the focal point if the living room is smaller.
Choice of shape
The drawing room sofas that are mostly preferred are in 'L' shapes. This is because the L shapes divide various areas perfectly. For instance, when your dining room and drawing room are clubbed in a larger area, separating them flawlessly can be done with L shaped sofas. If your drawing room often serves as a gathering area for a group and if your living room is smaller, then choose the round shapes. For smaller rooms, a day couch can be replaced for the usual sofas. It allows room for many and again serves a place to relax additionally.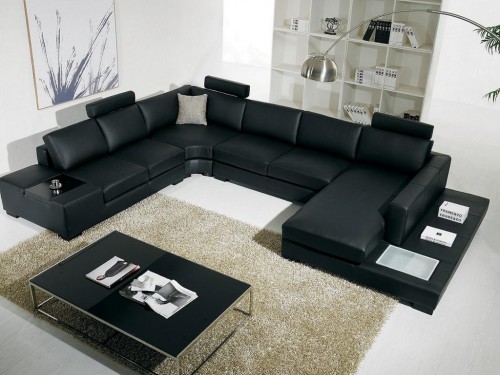 Choice of materials
A stunning sofa may not be the right choice because of the material used in making it. Plush and suede are often opted materials. These materials do not suit the family that has pets and kids. The best choice for any home is leather. When you choose them in dark shades, they withstand wear and tear of any kind. The greatest advantage in leather is that it allows cleaning and maintaining easily.
Colors and styles
The style of your drawing room sofas should go with your drawing room. Identify the pattern or theme of your drawing room and then find the perfect couch. You can find sofas in contemporary, traditional and in styles of mixed accent. The colors should also go with your home interiors. You can even choose daring and bold colors. If you feel they are too vibrant, funky shades too are perfect.
Personal preferences
What do you do in your living room? If you and your family relax and lounge here, then you need to choose the sofas that can place in semi-circle or circular orientation. Arranging the cushions and chairs in a way that create larger searing areas can be helpful to accommodate larger group of people.