The interiors of any house depend on the innovative ideas and the how well you utilize the space. There are many decorative objects that give a meaning and a well organized feel to the place you work or live in. Furniture occupies a major part in the place we live or work. We come across different kinds of furniture that we use and utilize well like tables, sofas, chairs and desks. Choice of furniture depends on our utilization, for what we require it for and the space we are going to place it in.
Why Bring Office Furniture at Home?
Home office furniture is well in demand for the people who have started an office at their home. The point that needs to be noted is properly outfitted workspace helps you to focus more and get the job done effortlessly and in that having just the essential furniture pieces makes a perfect ambience for your home office. The right choice of the material and design depends on how fitting and conveniently you want the home office to be.
If a chair is to be purchased, its design, finish, the height of the chair, the material of the chairs, all are taken into consideration. The right choice of the material and design depend on how ergonomic you want the home office to be. The quantity of chairs too has to be considered according to the type of work and people included. If there is a conference to be held inside the house, a larger number of chairs would be required.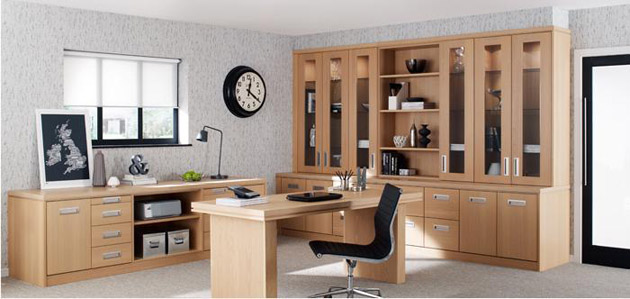 So, What Do We Count in Home Office Furniture?
Home office furniture includes table or desk, seating arrangements placed in a tactful way. For a desk to work on, there should be a drawer and a small cupboard attached to it. The drawer to keep all the stationeries useful while working and the cupboard to place all the files and papers of the projects or work assignments.
There are many online websites which make furniture available at our doorstep with free online delivery and online payments. We just need to select from the given options as per our requirements and place an order.
Customized Furniture – Just the Way You Need
There are very few people who can make the furniture as required. Personalized furniture is rarely available. Few carpenters are left to make such furniture, where we can ask them to make the furniture according to our requirement. But nevertheless, they are available, just in case you are adamant on getting a customized one. You can also order customized furniture from a few online retailers nowadays that offer these products at very reasonable rates and deliver the furniture at your doorsteps.
Though it is quite disturbing at times to keep doing office work at home, but at times, it's convenient as well. Home office furniture makes it convenient to work from home or work at home. So once you have a clear idea in mind, you can set-up an office in your home! Make a special space – a room for work.
Conclusion:
So we can say home office furniture is most trending furniture because of home based work. It becomes necessary that you choose your furniture wisely. Because at the end your surrounding makes huge impact on your work.