Whether you are kitting out your own domestic Linen Cupboard or you are purchasing necessary bedding for your business – perhaps a hotel or bed & breakfast – you will want the best bedding options on the market.
And there are numerous options from superking size bedding and various types of fabric which offer excellent comfort. Getting a good sleep is vital and it is therefore well worth while buying the best bedding available. You spend a third of your life in bed so treat yourself to a comfortable one. And if you do run a hospitality business your success will partly depend on how comfortable your beds are and how good your bedding is.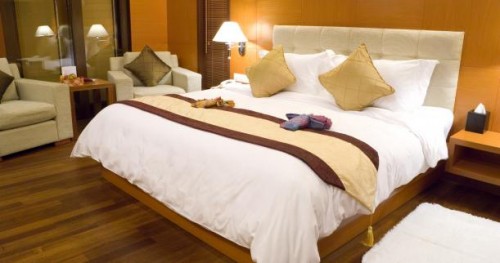 So here are a few options to help you if you are searching for the best quality bedding around:
• Superking size bedding
There are more and more people choosing superking size beds nowadays for that added luxury and comfort. So for superking beds you obviously need superking size bedding. Due to the increased demand for this kind of bedding there are some fantastic options in lovely fabrics, offering comfort and quality.
• Luxury polycotton linen
A range of 200 thread polycotton is now available for bedding in all sizes. It is made from 50 per cent cotton and 50 per cent polyester, hence the name, and it offers great quality and comfort. It also lasts as it is very durable, so a perfect choice for owners of hotels and bed & breakfast establishments.
• 100 per cent jersey linen
If you want to buy some bedding that is truly sumptuous then 100 per cent jersey is an excellent choice. This fabric is soft and plush, and it will ensure that you or whoever else uses it gets a great night's sleep.
• Iron easy polycotton linen
Polycotton has a number of benefits and as well as its comfort and durability it is available in an easy to iron fabric. This makes life a lot easier for hotel owners in particular and those who have to launder sheets on a daily basis.
• Boutique hotel satin stripe linen
For owners of boutique hotels and establishments that pride themselves on stylish features these striped satin finish sheets are just the job. They are top quality and are ideal for top class venues.