Coffee tables are one of the most important parts of living room furniture. These coffee tables have various designs and they come at various ranges. However, it is something where people can go really constructive by choosing some creative coffee table designs. While some such ideas can be expensive, others are really affordable. Mentioned here are some of the simplest and yet stylish coffee table designs that are made out of drifted wood, old junk and other objects.
Industrial cart
The most interesting way to add a creative touch to the living room would be to add an industrial cart. It just needs being placed between the sofas and chairs and it would transform the look of the room. With wheels under the cart, the coffee table becomes mobile and hence can be taken easily to any corner of the room. This idea is especially good for rooms with little space.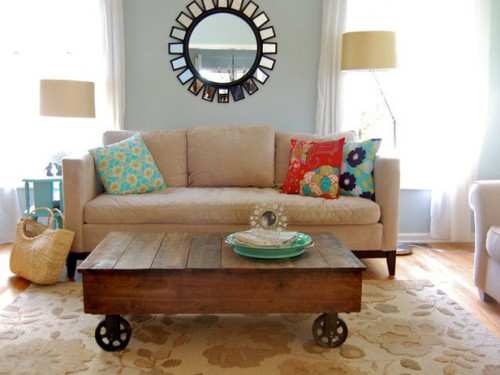 Vintage Cable Spool
The décor of the living room waits to be changed and refashioned often and nothing can be better and simpler than just changing the coffee table. The vintage cable spool is an immensely creative idea as it would offer an industrial flavor to the room. It can be made into a round table top. The cable spool can be painted or wrapped with rope in order to give it a rustic feel.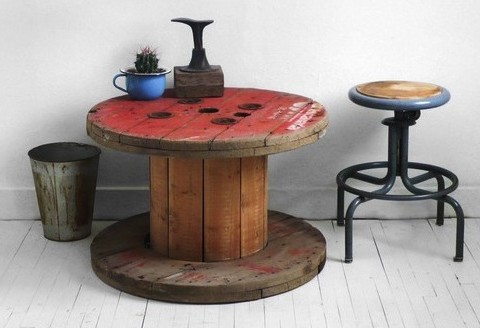 Suitcases
One of the most creative coffee table designs consists in stacking old suitcases one over the other. It should need two suitcases that have been painted. Placing one randomly over the other does not just make it look artistic but also offers additional spaces for storage. Small things can be stored inside. One suitcase can also be used. However this would require giving it legs to make it reach the standard height.
Books table top
Yes! The living room can get that geeky look too! And it's all so easy. It just needs stacking the books one over the other. It can be made all the more creative by stacking the thin books on one side and large and heavy books on the other. They would make the legs for the coffee table. For the table top anything like an old door or piece of a drifted wood or a window pane can be used.
Driftwood
A more innovative and artistic table top would consist in making use of driftwood, and the scrapped wood pieces such as the window frames, barn doors, and simple pieces of wood. For the base, the legs can be made out of any broken coffee table. Books stacked one over the other in a somewhat disorderly way can also look great.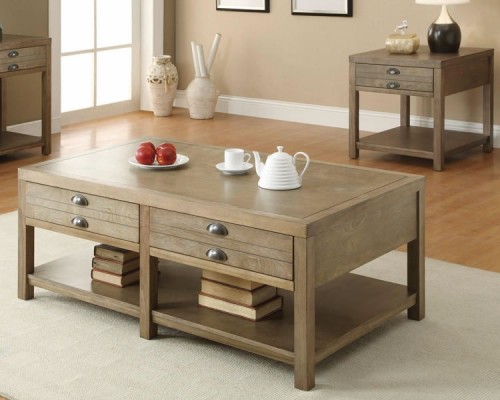 Trunk
One of the creative coffee table designs is using a trunk. Trunks do have a vintage look. They are simple and yet look artistic when kept in between the sofas and chairs. All that is to be done is repainting the old trunk. They can also be great places for storage.