Economy of space and money is causing people to opt for multipurpose furniture for modern spaces. People in the present world are more concerned about an economy of space and money. Multipurpose furniture is a great way to save money and utilize space in the most efficient way.
Chair and table
This is a rather innovative addition to the world of furniture. This dual piece of furniture serves as a table and a chair. The back rest of the chair continues straight down, pulling the seat of the chair downwards would pull the back rest on the legs of the table. The furniture thus can be transformed into a simple and sleek centre table with a simple table top.
Bed and ceiling
This is amazing modern multipurpose furniture that can work both as a bed and as a beautiful ceiling. The bed shuns the use of legs and fits into the ceiling to form an artificial ceiling. The area below can be used as a living room with sofas and tables. The operation of the bed is such that it descends to a certain height of the room and then fits back into the ceiling when not in use.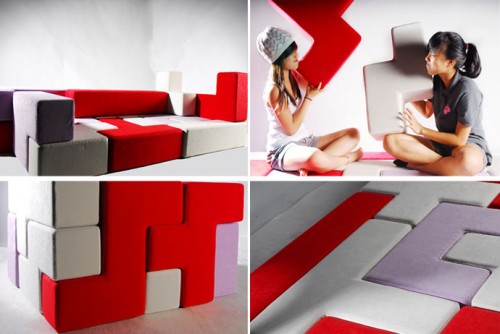 Mirror and iron board
Another example of modern multipurpose furniture is a mirror that can also be used as iron board. The furniture is sleek and follows a perfectly modern minimalistic design. The furniture is such that one side is fitted with an oblong mirror and another shows a plain iron board. The mirror and the iron board are easily convertible. While turning open one side reveals a mirror, laying it flat on the stand transforms it into an iron board.
Wall bed and table
This furniture shuns the need for a separate bedroom altogether. It is a multipurpose bed and work desk. A full sized bed takes up a lot of space and the fitting it into the wall opens up a lot of space which can be used for other purposes. A table or work desk is fitted under the bed that comes up when the bed fits into the wall.
Matroksha
This modern multipurpose furniture is versatile in its own nature and is made up of several individual pieces. The pieces can be combined or separated in different ways to form a number of different furniture pieces. The most interesting part of this furniture is that the individual parts can be treated differently and stored inside one another to open up floor space. The pieces that can be formed out of Matroksha include bed, a bookshelf, a desk, seating for twelve people, clothing drawers, a wardrobe, dining table, and a coffee table.
Flip coffee cup
The two halves of the furniture are in the form of coffee cups with one part forming a chair and the other forming a table. The two parts can be joined up together and inverted to form a table top.