It's difficult to make your furnishings reach your caviar tastes when you're operating on a hamburger budget. When you look at your furniture and see nothing but the product of discount stores, don't despair.
There are many ways to transform your lowly furniture into expensive looking pieces right out of a magazine.
1. Use Slip Covers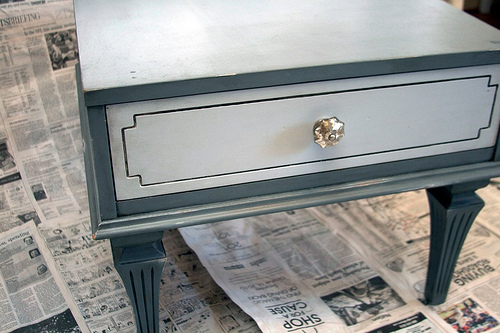 Image via Flickr by apartment28
A slip cover is a cheap, effective way to brighten up old chairs and sofas. There is an endless variety of slip covers to choose from and a new color can brighten up an entire room. If you choose a custom-fitted cover, it can transform an ugly old piece into something extraordinary without having to spend hundreds on a replacement.
2. Add Feet
If you want a piece of furniture to look more authentic, give it feet. It's amazing what elevating a sideboard, ottoman, vanity, or TV stand will do. And given the variety of styles available, adding feet also adds class and substance to something that looked a bit cheap moments before.
3. Replace Hardware
Hardware always gives away the budget looking appearance of furniture. There's something about plastic  knobs that makes a piece look cheap. By quickly changing out those plastic bits for hardware made of more substantial materials, you transform your furniture in a dramatic fashion. Imagine replacing cheap looking knobs with hand painted ceramic or bushed chrome hardware. The result is a better looking quality piece of furniture.
4. Apply Character
There are several things you can do to spice up cheaper materials to make them look higher class. If you have a particle board bookcase, add a roll of wallpaper to the interior for an expensively crafted looking piece.
With a bit of effort you can give a piece of furniture a distressed or antique look by using a can of paint, some stain, and some sandpaper. Within a few hours you can transform a drab dresser into something that looks like a collectible found in some posh Chicago apartments or in an upper Manhattan high-rise.
Don't be afraid to add trims or moldings, even a new top with a sheet of plywood. Sand it, paint it, add new hardware, and you can turn around and sell it for ten times the amount you paid for it.
5. Re-Upholster and Add Tufting
A bit more expensive than the slip cover approach, but re-upholstering a cheap sofa or cloth chair can really transform it into something totally upscale. You can also visit a professional upholsterer to have tufting buttons put on. This can turn a headboard or ottoman into a sleek and stylish piece for much less than it would cost to buy something that looks as good.
With a little creativity and time, you may discover other ways to turn your old or inexpensive pieces of furniture into something surprisingly attractive. Think outside the box. You can find creative patterns, colors, buttons, and fabrics that will give your entire apartment a refined new look. And no one need know your expensive looking décor wasn't really all that expensive.
Author Bio:
Jessica Snow is a young writer from sunny Florida who enjoys learning and writing about a myriad of topics. When she's not glued to her laptop you can find her running the trails with her Great Dane, Charlie.