Kathy and her husband Jim have recently moved into a new one bedroom flat in London. It's a lot closer to the train station than their previous home – which is great for Kathy, who works in the city – and Jim, a keen runner, is also delighted that the new flat is next to a park. The only downside is that it is actually a little smaller than their old two-bedroom flat.
'We both come from large families, and with friends visiting from out of town, we tend to get a lot of people wanting to stay over,' said Kathy when she and Jim visited our showroom. 'The new flat is much better in terms of location, but putting people up is definitely going to be a bit of headache.'
It was obvious that when it came to choosing furniture for the new flat, they were going to have to make the most of the available space and find a comfortable solution for their guests. With that in mind, we decided to show Kathy and Jim a few of the sofa beds in the Darlings of Chelsea range, and asked them which ones they think their guests would like the most.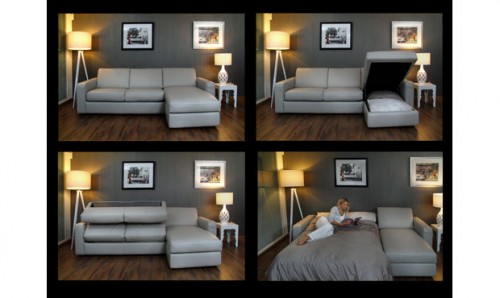 Kent Chair Bed
Essentially a single sofa-bed, the handmade-to-order Kent Chair Bed is very popular with people who live in small city flats like Kathy and Jim.
'I really like this,' said Jim. 'I love the idea of being able to use an armchair as a bed.' Overall Jim felt it would be a good solution for their living room, as it wouldn't take up too much precious living space. Kathy was less sure, however: 'It's a really nice chair, but a lot of our guests are couples. I think we'll need a double bed at least.'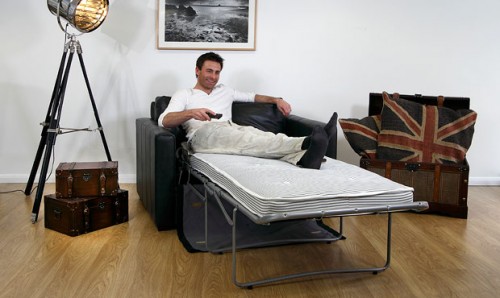 Kennedy Fabric Sofabed
This elegant sofa bed has an easy pull-out mechanism and the option of standard or slightly wider storage arms. It comes in a wide range of fabric options, making it adaptable to any living room. As Kathy pointed out: 'As well as being a nice bed, it's a really comfy sofa. It's important not to lose sight of the fact that as well as being a bed for our guests, it's also going to be where we sit to watch telly.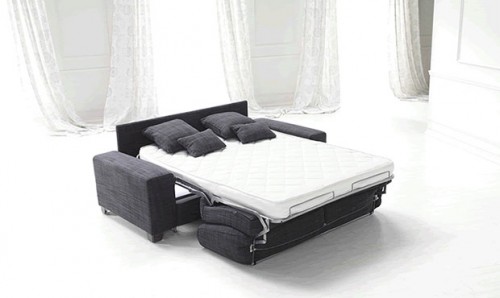 Hampshire Sofa Bed
As one of the newest of Darlings of Chelsea sofa beds, we were very keen to know what Kathy and Jim made of the Hampshire, and we're pleased to report that both seemed impressed.
'It's definitely a quality sofa,' said Jim. Kathy agreed: 'I like the fact that it comes in a range of different sizes. I think we've got enough space for the large double sofa bed size!'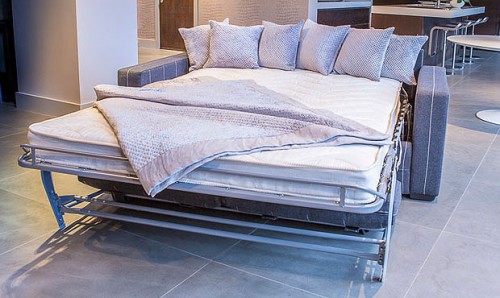 Sloane Leather Sofa Bed
This one is Darlings of Chelsea's biggest selling sofa beds, and a very popular option with young couples making their first investment in quality furniture.
Jim: 'I have to honest, I hadn't thought about getting a leather sofa, but this one is really nice. It's got a modern look which really appeals to me – I don't really go for traditional antique-looking furniture.'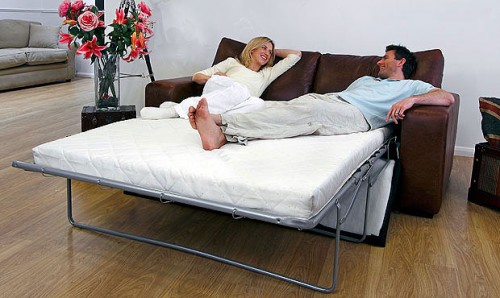 Marco Sofabed with Storage Chaise
As we know that storage is always an issue with smaller homes, we suggested this elegant sofa which also comes with a storage chaise attached. A luxurious and roomy sofa, that also makes a fantastic bed, the Marco can be adapted so that the chaise is on either the left or the right.
'This is perfect for us,' said a clearly delighted Kathy. 'The living room is just big enough for this to fit, as long as we use the space wisely. And it's a really comfy bed – I think our friends and family will love it!'
'And the fact that it provides extra storage is a real help,' added Jim. 'You've sold me on the idea of getting a leather sofa bed as well.'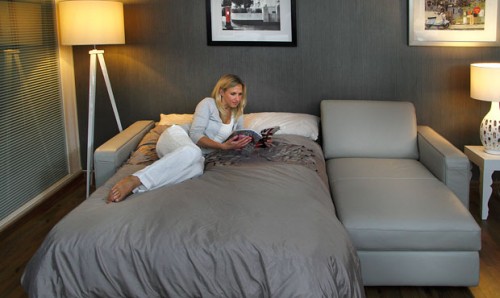 And finally…
Their decision made, Jim and Kathy ordered a white leather Marco sofa with Storage Chaise. There was the option to go with contrast piping, but they decided to go without.
A few weeks later we called them up and asked how they were getting on with the sofa. Kathy: 'It's been great, we've already had a few family members down to visit, and everyone has commented on how comfy the sofa bed is.'