Many families nowadays are making their outdoor patio space as the living room. They are a lot more concerned about how to enhance the look of their outdoor space in the best possible manner. Using eco-friendly garden furniture for your home can help in better management of the ecosystem and protect the environment from destruction. Provided below are some tips which can be followed while buying eco-friendly furniture for the garden.
It is always good to buy furniture produced from sustainably cultivated forests. Forests are regarded as the main source of oxygen and are home to different animals, birds, reptiles, insects and fishes. Thus furniture made from the wood of sustainably cultivated forests helps to keep the forest life intact and protect the environment while also beautifying your home.
The eco-friendly garden furniture produced from reclaimed materials helps to protect the trees from being cut down. Wood that comes from the destroyed structure of some old house or older furniture is ideal for making furniture for the patio or garden. Another great advantage of aged wood is that furniture made from it is well known for rich patina.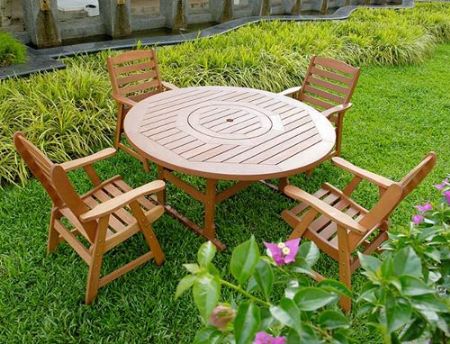 Durability is one of the key factors which need to be considered while buying eco-friendly garden furniture. If the furniture is durable then chances of it being ending up in the landfills is highly reduced which helps to keep the environment clean. Furniture that is long lasting can be passed from one generation to the other which helps in saving trees  which would otherwise be required for building new furniture.
Buying vintage furniture is another way to make sure that lesser number of trees are being cut down for making furniture. Apart from that, vintage furniture has a reputation of earning good price when sold. Therefore, if a person feels that the furniture is no longer of use, it can be sold at a much higher price than what it was bought at.
Choose garden furniture made from materials like bamboo, willow and rattan palm vine. Rattan reed and cane are used in the manufacture of the most traditional and oldest garden furniture. Most of these plants have a tendency to grow quite quickly unlike most other trees which require long periods to reach full growth.
Those who prefer to use metal outdoor furniture can make use of aluminium or stainless steel garden furniture. Not only do they look modern and clean but are able to withstand different weather conditions without getting damaged. The electro polished, tubular stainless steel frames are capable of resisting erosion and offer a great look to the outdoor space.
On the other hand, aluminium furniture is lightweight and easy to carry around. They are highly resistant to erosion and rust which makes them a preferable choice for many households. Most of the modern eco-friendly garden furniture comes with folding features which makes storing quite easy.