The eco friendly ingredients used for the renovation of the furniture in your garden includes hard wearing, durable woods, sustainable materials, recycled plastic, polyethylene and stainless steel. This design includes the use of environment friendly practices and materials for outdoor and garden living collections. The use of TFT in creating the eco friendly furniture for garden ensures that the hardwood required for making furniture is comprised of plantation that is socially managed by long conservation procedure.
For creating eco-friendly furniture, 90% of manufacturing waste is recycled and the furniture and products are 100% recyclable. It emphasizes on reducing the land fill waste and saving the natural resources. Northern Cedar, Red Cedar and FSC certified wood which is the best rot free, water resistant and durable wood is used as raw material for producing the eco-friendly furniture. High density polyethylene and recycled plastic is also used which is perfect f or all type of weather conditions.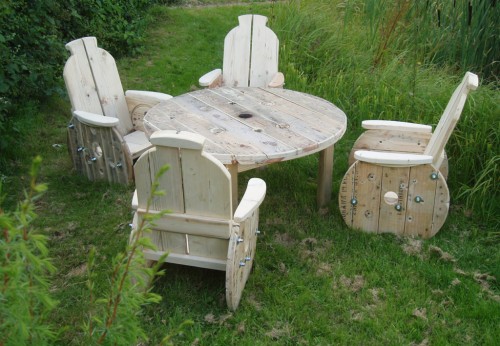 The go-green approach of garden furniture ensures the use if sunbrella recycled fabric and fiber elements that can be used for alternate purpose. The colors used are also made p of natural products which actually reduces the harmful waste that is associated with traditional colors and dyes.
A wide array of eco-friendly garden furniture is available in the market which is made up of natural materials and fiber. The common material used for making the eco friendly furniture includes Wicker that is made up with rattan vine of palm tree, willow or bamboo, sustainably harvested wood, recycled materials such as home-made birdfeeders and aluminum.
The recycled rubber products are also available in market as they does not breakdown and mix into the soil, it holds the rainwater and reduces the risk of nitrogen snatch. It is also a temperature stabilizer and frost protector that are great for plants, play areas and gardens. It is usually colored with organic colors and pigments.
The main benefit of choosing the eco friendly furniture for garden is that it is made up of natural products that do not harm the soil and plants. The environment conscious people choose for this furniture and take a step ahead to protect the environment from harmful substances. The natural timber used for making these products is a renewable product.
It improves the look of your home with taking the environment protection into consideration. The available furniture is designed in an elegant and stylish way that can suit to everyone's personal choice of decorating their garden.  The furniture made up of Wicker wood helps in removing the noxious water weed that chokes the way of water and destroys water plants and fish habitats.
The eco friendly furniture is one of the greatest assets to any home and garden as it does not have any toxic chemicals and no residues are produced. Along with the environmental benefits it also makes the looks of garden stylish and beautiful.