A living room is the lifeline of a family. It is the place where the whole family meets to have some nice chit-chat time as well as television time. The living room also serves as a party spot for many any occasion. When we go to a not-so-familiar person's house, it is the living room that gives us an idea about the owner's taste. Thus a living room rightly mirrors the moods and sensitivities of the family residing in that house. With the meeting of the orient with the occident, quite some exotic collections have made their way into our lifestyle. How can the furniture then stay untouched? We bring you some ideas on exotic living room furniture.
Sofa
The couch or the sofa is the centre of attraction of any living room. Have huge Maharaja styled sofas that give a rich and majestic look of the east. Complement them with nice traditional looking chairs. To give the space a complete exotic look, complement the seating with plush bandhni print set as diamond shaped between two cylindrical loads or absolute traditional zigzag pillows that contrast with the seating. Another option for the living room sofas could be handmade multicolour sofa sets with cushion covered by invigorating bright flower designs.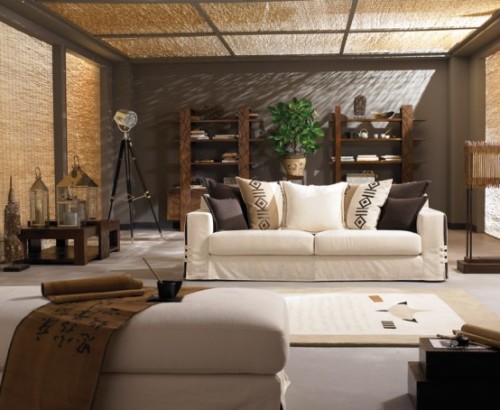 Rugs
With the exotic theme on your mind, spruce up the living room with Persian styled Afghani hand knotted rugs. Aesthetic floral patterns are also something that you can think of. Love luxury? Don't compromise on cotton, synthetic or wool. Go for silk and fur options. Light up the décor in scintillating yellows, reds and bright blues. Burgundy and maroons give a timeless appeal. Spread some floor pillows of various geometric patterns to add a mysterious charm.
Mirror
A large mirror at one corner wall is sure to be the cynosure of the living area. When blending in the rich and exotic look, you have a great option to look for wooden mirrors. A shutter mirror feature in this glass art can give you double look in one wall mirror. Petite golden keys let the shutter doors stay closed. If you are someone who can't be satisfied with one, don't stop yourself. Experiment with multiple sparkling mirrored surfaces that reflect the décor well and accentuate the appeal.
Walls
Walls breathe in the required oxygen to the décor of a living room. You may have one wall complete with rich and contrasting multi-coloured wall paper. Let the elephants and camels decorate your walls or bring in a nice evening look with a romantic sunset that adorns these room barriers. If you are not a great fan of the wall paper art, why not get yourself a big sized traditional painting? You can also hang fine vegetable print art cloth or a mishmash of art work on a huge cloth or exotic paintings that add grace to your out-of-the-world living room.
Lamps and Lighting
Lamps should be subtle and placed in the corners near the electrical outlets. Nevertheless, they can stand tall beaming their shades. An artistic way to mix and match your lamp is to gel the base with the shades.  Another way to choose lamps is get shapes beyond the obvious. A classic example would be an intertwined art of two vertically blended metal rods connecting the frame to the top and bottom. The zigzags created and covered by fabric-like beige paper give it an excellent look. Don't forget to spice up the personality of your room with matching chandeliers.
Spicing up your living room is your opportunity to live king-size and experiment the exotic versus traditional. Designing it gives you unique and exciting prospects to embrace furniture and home wares in your zone. Finally, don't forget that it is impressive to mix and match, but avoid conflicting patterns and hues.