Dining tables and chairs are an integral part of your kitchen and yet play an important role when it comes to enhancing the overall look of the kitchen. A relaxing dinner is not only in the culinary skills of the cook, but also in the way the table is set and how comfortable it is. Your dinner parties with colleagues, friends or an informal meal with your family can be enjoyed with a perfect background set with the help of modern dining tables. You have a variety of choices from the materials to the colors and they are also available in many shapes including oval, round or square to exactly suit your kitchen. The décor of your kitchen gets prime attention with the right dining table.
Panache designs
Modern dining furniture is available in various styles and designs. The style and design can be purely based on what you can afford or what you prefer. Various materials like oak, beech, metals and walnut can be chosen. Lacquer finish tables offer a sophisticated touch to your dining furniture. You can also find metal and wooden dining table with extendable pieces in contemporary style. In families where there are many kids, contemporary dining tables and furniture that are abrasion-resistant are suitable to withstand rough handling. It is always better to choose the table with simple design. Simplistic designs help in cleaning and maintaining the table easily. The most preferred counterparty table is that of veneer oak which has a lacquer finish adding to its elegance.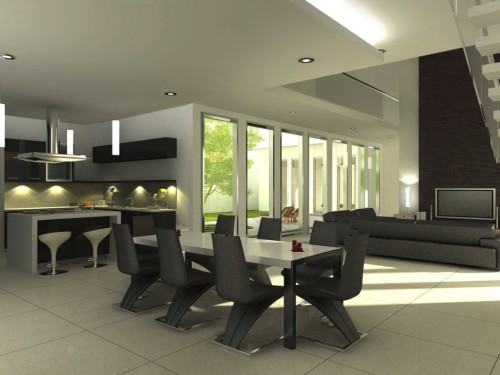 Right shape
Square, rectangle, circle and oval are some of the various shapes used in contemporary dining tables. Geometric shapes are the characteristics of contemporary dining tables while the common theme of modern homes is symmetry. You can see that many modern homes have only few accents and clutter is very little. When it comes to shapes and seating, oval shapes are known to accommodate more guests.
Color schemes
The color schemes found in the contemporary dining tables are bold and vibrant. Red, green and orange are a few examples. You can find these colors match the symmetrical modern homes. Even the dining chairs need not be in the colors that match the table. Black chairs with red tables are a preferred combination these days. The modern dining room chairs have high back and long, sleek legs. Chairs should be aligned symmetrically, which is of more importance than that of the matching color schemes.
How to buy
Finding the right dining table is not a cumbersome task as there are many specialized shops that sell this kind of furniture that is available in good numbers. You can also find the right one for your kitchen at online shops selling contemporary dining furniture. Online shops offer lower prices but you need to check if the shipping charges are included in the price tag. Regardless of where you buy, ensure that you buy quality furniture. Consider the size of your family and kitchen and choose the furniture accordingly before selecting one.