If you are really tired of the boring look of your dining room furniture, then it is time for you to consider the latest dining room furniture trends. You should try getting updated trends in dining room furniture to make your dining room appear more stylish and decorative. Classic looks are always great, but you can add a modern look as well by making the choice of some of the hottest trends in dining room furniture. Your dining room is the place where all the members of your family get together for meals and this is the reason why special care should be taken while choosing dining room furniture.
New-traditional furniture
If you are the type of person who likes keeping the dining room straightforward and clean then you can manage to have a traditional and classic dining room by updating the furniture in the room. The modern twist given to classic furniture used in the dining room is one of the reigning trends in dining room furniture. Imagine possessing a traditional dining room. A traditional dining room would generally include pieces of furniture that carry sophistication. New tradition is something that advocates the use of the usual pieces of furniture, but the ones that radiate more hominess and comfort in place of stiff formality. The dining sets in your dining room can be replaced with dining sets that are more practical and colorful.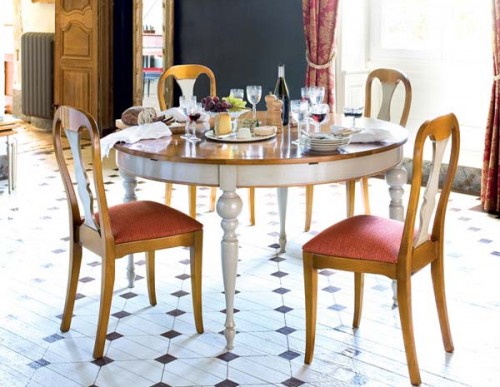 Fashionable chairs and tables for the dining room
Fashionable and stylish chairs and tables for the dining room serve as good examples of both style and comfort. These chairs and tables are available in different designs starting from the ones that look elegant to the ones made from wood. Our dining room should reflect the joy, love and the bond that we share with our family and also with other people who live around us. Therefore, it is important that we choose dining room chairs and tables that fit our taste, personality and lifestyle.
Mismatched dining tables
Using mismatched dining tables in the dining room looks eclectic and chic. There are many homes with dining rooms possessing tow tables that are positioned side by side. One table is a little taller and it is for the grown-ups while the other is shorter and is meant for the kids. This idea can be taken a step further where two mismatching tables of similar height can be pulled together to make one table.
Expensive dining tables and low cost chairs
You can even mix high quality, expensive dining tables with chairs that are low in cost to create a different look in your dining room. This is one idea that will not only save your money but will also help in creating an eye-catching and stylish look adding great charm to your dining room.
Convertible dining table
Nowadays, there are a lot of people who do not like to sit down and have their meals in their dining rooms. They generally like to sit in front of their TV and eat sitting on a couch. This situation can be addressed by the use of convertible dining table sets that are in great demand these days. These dining sets can be used as coffee tables and can even be adjusted as dining tables. While these are only some of the latest dining room furniture trends that are being followed by people all over, you can try your own styles with the right mix and match pieces that offer a beautiful look and inspires your friends and guests.