Some homes really have a special aura about them. Everything feels right the minute you step in and it feels like they are creating everlasting beauty without even compromising on convenience and practicality. But such a perfect atmosphere never happens by accident. There should have been months, if not years, of planning to meet the needs of everyone in the family and to suit the tastes and interest s of the residents.
Most of the times, a coat of paint in a new colour or bringing in some Kashmiri carpets will play a major role in enhancing the look of a home. But the one thing that is always sure to completely revive the atmosphere in any room is the right furniture. And that being said, today's furniture is trendier as it is available in more environment-friendly designs blended with modern conveniences.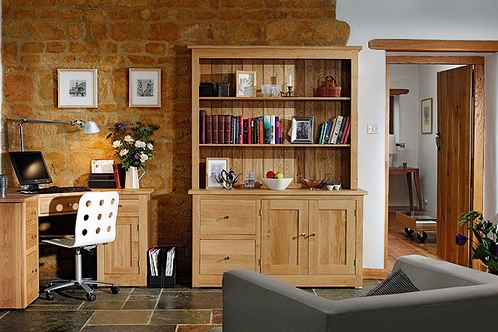 One thing that should be considered before bringing in any new furniture is to think about maintaining the decor that you are about to choose. Instead of compromising with the cheaper alternatives such as Plywood, MDF, HDF and other furniture that is made of engineered wood, it is better to go for furniture that is made of oak or Mahogany as it can create a beauty without compromising on convenience and practicality. It is also available in many designs that mix traditional craftsmanship with modernism.
Oak furniture is best suited for any kind of atmosphere and is also easy to maintain. It is also available at an affordable price so that you don't have to break a bank to improve your lifestyle. While the market is flooded with many furniture makers, you need to choose the right oak furniture company for the right designs that go well with the ambience of your room.
It is a popular choice among many because of its homely look, durability and its uniqueness to add charm to any room. However, there are different types of oak furniture needed for different purposes. While the white oak is ideal for outdoors as it can withstand more ware and tear, green oak is best suited for making any kind of indoor furniture and is also good for hard wood floors. But again, the choice depends on the home owners as both types can be mix and matched and are ideal for any purpose despite the weather conditions. Green oak is another type but is rare is it needs years of maintenance before it can be used for making any furniture.
Maintaining the oak furniture
Oak furniture is best for garden or indoors and gives the home a timeless look as it changes colour with the age. However, it should be properly maintained to be in best possible condition. You need to keep the below points in mind if you choose to buy or already have oak furniture.
Furniture made of untreated oak should be regularly maintained by wiping it clean with a cloth soaked in teak oil. Oak furniture should never be cleaned with water.
Instead of dragging the furniture, lift it carefully to set down even if the oak furniture is heavy and strong. This will help in maintain the joints.
Do not place the oak furniture too near to the fireplace as it can dry, crack and fade the colour of the wood. When it comes to the kitchen, do not place ovens or hot dishes directly over the furniture.