Black bedroom furniture helps in attaining a customary and up-to-date appearance of your bedroom. These furniture sets render a lively and impressive décor to your bedroom that fills you with pride. They produce different effects that do not have any equivalent. Black furniture for the bedroom might help you in building a look that is stylish and grand when merged with different selective pieces. A bed made of black wrought iron looks awesome and black lacquer provides a dramatic look to your bedroom. However, when trying to use black furniture in your bedroom, you should first prepare your room to suit with the color black.
1. Do not overdo the color
The first rule that you should follow when using black furniture in your bedroom is not to overdo the color. This means you should try and avoid the use of black flooring, black walls and black curtains along with black furniture because this will make your bedroom too dark. Try mix and matching the colors of your curtains, walls and floors with black furniture. Also try accessorizing your bedroom with room decors and accents so that they match up perfectly well with the black furniture that you use in your bedroom.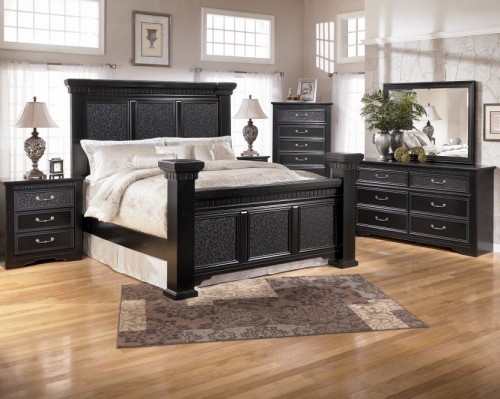 2. Avoid too bright and fluorescent colors
The second rule is to avoid overly bright, neon and fluorescent colors. This is because of the fact that the contrast generated by the assimilation of black furniture, colors and tropical materials is quite conflicting. It is not able to fit in any ways with the color scheme and the layout of your bedroom and wipes away the charm and the stylishness of black furniture in your bedroom irrespective of how expensive the furniture is. However, if you have this strong intention of adding a perky shade to your room then you can paint one of the bedroom walls in a bright color of your choice. You can even use wallpapers made from natural fibers for adding texture. Nevertheless, try choosing simple and neutral patterns and shades.
3. Use neutral background colors
This is a rule that has been given birth by the two rules that have been detailed above. Always select the colors that go well with black furniture that you use in your bedroom. Avoid very sharp contrasts. Choose neutral background colors if you require relaxation and tranquility. You can even use tan and beige for creating contrast without over killing.
4. Windows, doors and walls
Your main intention should be to make your pieces of furniture stand out. Help these stylish pieces attract attention. You should keep this in mind that you would not be able to render this effect to your furniture if the bedroom walls are too colorful or too dark. Try re-painting your bedroom walls in cream, white, tan or beige because these colors will help in accentuating the look of your black furniture. Try to also balance the energy by the use of artificial and natural lighting arrangements. Black bedroom furniture helps in making your bedroom a place for relaxation and comfort.