Having an idea about the 5 things to consider when choosing a new roof helps in accentuating the look of your home. If you choose wisely then you will be successful in creating something that will not only protect your house for a very long span of time, but will also enhance the overall style and beauty of your house. There can be absolutely no doubt in the fact that a quality roof is quite important for the protection of your investment. Generally speaking, roofs tend to last between fifteen to twenty years, depending on the material they are made up of. If you are looking forward to reinforce and redefine your home with a new roof, then you must consider some of these points, from roofing experts like Brinkmann Quality Roofing.
1. Style
The roof has an important role to play in creating a great look for your house apart from the front and siding doors, driveways and lawns. When looking for a new roof, go for the choice of shingle that goes best with the architectural style of your house. The angle, pitch and surface area of the roof are some factors that should be considered in determining the type of roof required for your house. The market for new roofs at present is no concentrated on the normal roofs available in square shape, but there are wide varieties of colors and patterns available. Choosing roofs in different colors and patterns will help in elevating the longevity and appeal of your house.
2. Material
Roofing is widely available in a variety of different materials including metal, slate, tile and wood, but the most famous choice among households is asphalt shingles. The flexible and the lightweight shingles that are available these days are made out of fiberglass mat, asphalt covered and colored by the use of minute granules. Nowadays it is not a problem finding a high-performing, good-looking quality asphalt shingle because of the manufacturing innovations, including everything from granules that render UV protection from the damaging rays of the sun to the super strong core construction. Asphalt shingle is there to suit your budget and your home.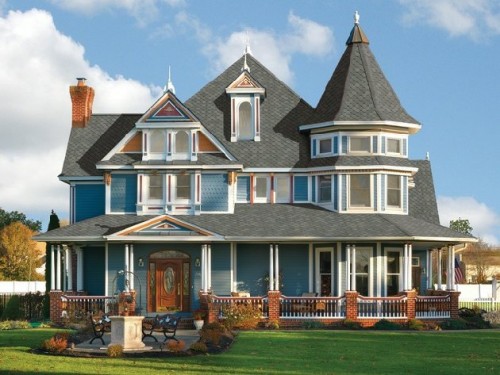 3. Durability
You will obviously want to make it quite certain that your new roof has the ability of standing to different conditions of weather and at the same time provides long lasting beauty. You can be very sure about these factors by shopping for branded and quality roofs. Go for advanced protection shingle in order to get the best combination of performance and weight delivered by modern testing and technology.
4. Color
Just like style, even color is a very important consideration while making the choice of a new roof. If you want to create an elegant and harmonious look for your house, then you should go for roof colors that compliment the surroundings and the exterior palette of your house. Keep things submissive if a very large area of your roof is easily visible from the street. In this case, you can go for neutral tones.
5. Price
This is the most important factor that should be kept in mind when making the choice of a new roof. The best that you can do in this respect is going for the asphalt shingles that require least maintenance and are quite affordable. These are the 5 things to consider when choosing a new roof so that to have a wonderful roof that only makes your home beautiful but also saves the maintenance costs.