If you are planning to renovate your home inside out, you should consider these 10 awesome exterior design ideas. The first thing people notice when coming to your home on any occasion is the exterior part of your home. People are generally more concerned about their interiors; paying less heed to what it looks like on the outside. The exterior of your home is also very important and you should give it a thought when designing. There are many things you can use or do, to make your exteriors look attractive. Design the patio and the landscape wisely, and at the same time, choose the perfect colors for the windows, doors, walls and the roof. For help with ideas and actually completing the task, contact contractors like Art Construction for the best results.
1. Fresh Paint
The best exterior design is one that uses fresh paint. Always choose clean and bold colors for the exteriors, in order to make an impressive statement. Home exteriors should primarily be painted in dark hues like charcoal and then be given a crisp white trimming, combined with a bright color.
2. Dual Tone Decking
Do not go for the old and the same boring decking for your exteriors. Go for something new and make use of dual tones. You can create a unique design if you happen to possess two decks. Stain one of the decks darker in comparison to the other, as this will help in creating a sense of separation between the decks.
3. Modernized Wooden Pergola
Pergolas help in adding shade and at the same time they work as architectural pieces which are aesthetically pleasing. Wooden pergolas make your exteriors look stunning, if they are dark stained or painted in modern style. They can even be decorated with light strings or by hanging potted plants.
4. Landscaping
Proper landscaping is very important to make your exteriors look great. Take some time out of your busy schedule and think about the design that will work great for your exteriors. Next, you need to get landscaping equipment for making large projects appear easier.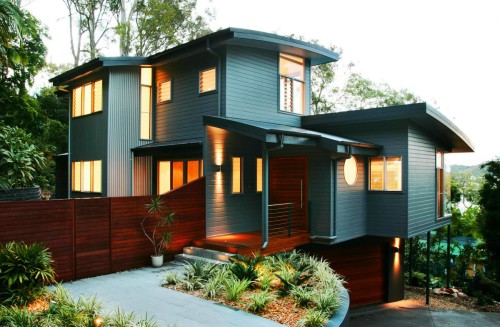 5. Outdoor Lighting
Lighting the outdoors adds an extra layer of beauty and depth to your house. It also turns out to be very useful during night. Pathways and lanes along the garden or the yard should be lighted up decoratively for creating a very warm ambience.
6. Cozy Fireplace
If you are fond of spending time outdoors, then there is nothing wrong in adding a nice and cozy fireplace on the outside of your house. Go for modern designs of fireplaces possessing more natural and concrete look to add warmth during cold nights.
7. Modern Fence
Fences are very important for adding security and privacy and at the same time, they can appear great outside. You should choose contemporary, horizontal and planked fences, in order to make the exteriors of your house look awesome.
8. Furniture and Seating
Furniture and seating additions serve as inexpensive methods of transforming the exteriors. You can choose to go for the built-in looks by using benches and other pieces of furniture like ottomans, sofas and lounge chairs.
9. Outdoor Bar and Kitchen
If you are fond of outdoor entertainment, then try to invest in outdoor bar and kitchen. This will add an element of space to the exteriors. Go for a rustic and modern look and you can even add a fridge, tap system and a sink to this kitchen.
10. Herb Wall
You can add texture to the exterior part of your house by creating an herb wall. An herb wall takes minimum space and provides you with some of the most useful ingredients that can be useful in cooking and in spreading fresh fragrance around the house.
These are the 10 awesome exterior design ideas that can go a long way in creating a visually artistic exterior.