For many out there, lives depend on their phones and a minute without them is like one has been asked to go back to the dark-ages. Mobile-phone comes in many forms and sizes with a great range of different features that helps them to stand out among the masses. But one vital feature that is common to each and every mobile-phone out there is the battery and the charge which it needs to breathe all day through.
Listed below are the names of the best solar powered iPhone chargers available in the market right now, but one should remember that these chargers are meant for topping the phone with some additional boost in emergency situations and not to be used as a primary source only.
Mooncharge from Frostfire
It is a case that comes with a lithium-ion battery (rechargeable) at the base embedded with a solar panel so as to extend the iPhone's life. Keeping it under direct sunlight for about twenty minutes will give an additional 50 minutes (standby mode) or a talk-time of 5 minutes.
Power Monkey Extreme Solar Charger
This is considered by many to be the ultimate when it comes to solar chargers, as it packs in a lithium 9000mAh polymer battery, with which even an iPad can be charged. With 7 hours of sunlight, one can easily get a 1/3 of a charge. Also, it is waterproof and comes with Velcro straps that are removable.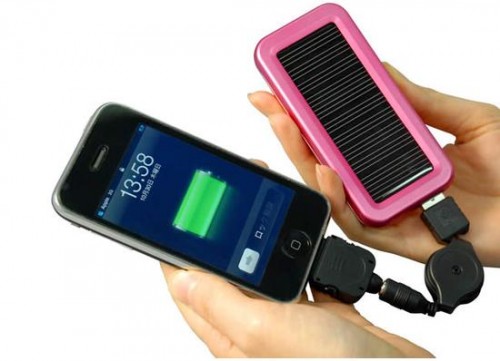 The Guide 10 Plus Mobile Kit
A perfect charger for someone who is always on the move because of its portability. It can easily fit into any pocket, comes with an in-built LED flashlight and a warranty of one year.
Solar Wallet from Icetech
This charger comes in the design of a wallet with a 1350mAh battery (lithium-ion) inside and a solar panel on outside. The wallet can recharge the iPhone fully in 3 hours under direct sunlight.
Solar Charger from Solio
From a brand that is well-known throughout for its products with great solar charging capabilities comes a charger which can provide power to a battery of 1650mAh. The battery gets fully charged within 9 hours and gives about 10 hrs of talk time.
Surge from Novothink
It comes in a combo of battery/panel/case, it uses a battery of 1320mAh and direct sunlight of 2 hours can provide 30 mins of talk-time on 3G network and 60 minutes on 2G.
The Amp Portable Solar Charger
The list of top solar powered iPhone chargers will fail to complete without mentioning this charger as it not only has the capability to charge the iPhone but also several other devices such as portable GPS units and digital cameras. It gives 3 hrs of talk-time by keeping it under the sun for one hour. It can also act as an adaptor for multiple of devices as it sports a 3000mAh battery, a solar panel of 2 watts on each side.