Researchers and individuals who are passionate about fields such as environmental sciences often find the notion of compliance to be a nuisance. They are regularly showcasing work that demonstrates preservation of the environment, but there are companies and individuals getting away with damage infliction.
Incidents such as oil spills are of a sensitive nature and often results in oil lobbies getting away without punishment. For instance, this report highlights oil spills in North Dakota which the public had no clue about. Such negligence can be cruel in the mind of environmental researchers who are working to improve the natural environment. However, there are options for those interested in fighting these issues if they arm themselves with the right education.
The hope lies in the educational paradigm of today (ie. online). With a variety of legal courses being offered online, researchers and people passionate about the nature can add a legal aspect to their work to protect the environment without giving up their current work as they pursue further learning.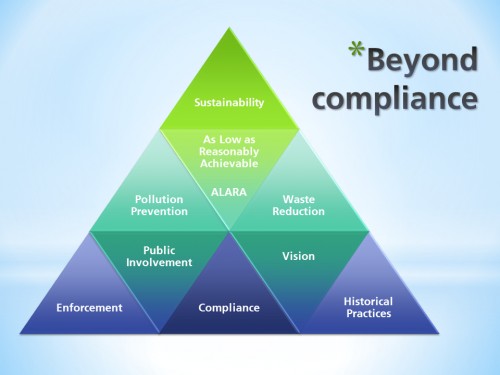 Environmental law and compliance
There is a lot of controversy when it comes to environmental law and its compliance. Debates on implementation of this law in many countries is still marred by flawed arguments such as necessity, fairness, cost and need for regulation.
Considering the U.S. as an example – this study highlights the nation's government estimated that the total cost for environmental regulation amounts to 2% of the total GDP. This has been used as an excuse to employ wide-spread legislation. A person well-versed with environmental science would know that a '2%' label is very arbitrary since it is difficult to quantify the cost benefit analysis of such measures.
The notion of 'common law' within many countries including the U.S. and Canada have provisions for 'environment' based negligence. This can be attributed to companies performing unreasonable conduct and damaging the ecosystem in the process.
Protection of the environment is one of the most defining traits for a person working in the field of environmental sciences. In order to perform this task, they have to align their careers in such a way. While the knowledge of researchers is quite extensive in natural sciences, they lack in compliance and regulation. Thankfully, online tools are providing a route for researchers to get degrees in law and criminal justice, thereby leading to legal compliance.
Career augmentation
It is pretty much possible to pursue associates degree in criminal justice online and that too without any time constraint. The degree gives authority to ensure regulation of environmental law, violation of which falls under the criminal justice category. An Associate of Applied Science degree from a reputable online education institute covers all legal aspects including resolving ethical issues related to individuals and companies.
This 'specialized' approach is more productive and can be seen in the very recent case of a woman who has sued a mining company for environmental negligence. The Environmental Protection Agency has joined the lawsuit  because the negligence led to cancer in the woman. Now in this case, the issues of environmental negligence are pretty much the same. However, the approach is more of a criminal justice nature due to the effect it had on someones health.
Another example of the need for expertise based skill-set can be seen in a case filed against the American Electric Power Company in lieu of greenhouse gas emissions. The U.S. Supreme Court ruled that corporations cannot be sued for greenhouse gas emissions under the 'common law'.  This case was the first one brought to light regarding global warming, but the outcome was unsuccessful since it was backed up by non-profit organizations that at the end of the day didn't have sufficient legal backing to their statements.
The premise of the example: researchers who have augmented their degrees with legal compliance are in a better position to generate viable results. The reason is that instead of banking on issues such as global warming, they would think as lawyers and point out how the corporations have violated the law. So having the desire to protect the environment and being legally able to do would lead to a better outcome.
The online law degree approach for environmental experts is an ideal ploy to ensure regulation and compliance in a competitive global economy. It is also important to note that such degrees translate into more specialized (and high paying) careers than the conventional law and associate degrees, adding teeth to the cause being pursued.