Conservatories, orangeries and garden rooms have been a staple of British architecture for centuries. They allow light to gently flow into your property, offer you unparalleled views of your garden space and are a stunning and inventive way to add square footage to your home which is why they are never out of style regardless of the season and regardless of the century.  They may contain a glass ceiling but the sky's the limit when it comes to designing and creating the perfect conservatory to suit your home. Choose from ornate, time-honoured designs that complement the spirit of period properties or contemporary creations that enhance modern homes or anything in between.
Designing a conservatory that is perfect for you is an art form. Your design needs to blend seamlessly with the architecture of your home for an aesthetically stunning façade while also serving as functional and comfortable space, the first step towards achieving this marriage is to decide on what the function of that space will be.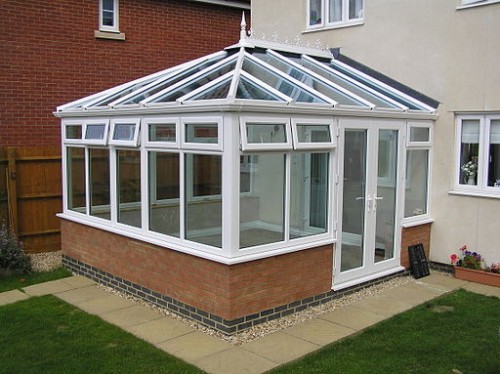 An Indoor Garden
Modern conservatories are typically put to use as sitting rooms where we can relax in comfort while enjoying the serenity of our garden views, historically they served a different purpose that is now seeing resurgence. During the days of the British Empire the nation was introduced to enticing and exotic fruits that couldn't be properly cultivated in the cold UK climate, the original conservatories were designed with heat retention in mind so produce could be comfortably grown away from harsh winds and declining temperatures.
Today the world is a smaller place where we can purchase foods from the 4 corners of the world in our local supermarkets, but more and more of us are choosing not to. As a nation we are increasingly proactive in our environmental efforts and turning our homes into oases of sustainability is increasingly important. Modern, temperature controlled conservatories are a beautiful way to encourage the growth of plants and produce so you can keep your fingers green all through the year, improve your overall air quality, create a tranquil environment and lower your carbon emissions; everyone wins.
The Perfect Play Area
As our families expand our homes seem to shrink! Sharing a home with small children more often than not means your dreams of pristine surroundings are squashed as the house becomes flooded with toys, games, crafts, dolls, sports equipment and more. Trying to contain children's possessions to their bedrooms is like trying to keep water from seeping out of cupped hands. If they have an area designated and designed for inspiring imagination you have a fighting chance of keeping clutter to a minimum and they can let their dreams run wild.
A conservatory is the perfect setting for encouraging children to use their minds, they have the freedom to be inspired and entertained by nature whatever the weather from the comfort of the indoors and can make the room their own.
A Home Office
How many times over the course of your life have you been sat at your desk on a beautiful day and wished you could work outside? How many times have you tried it? As relaxing as working from the garden might seem the reality of it is shockingly impractical; wind, wasps and noise are hardly synonymous with hard work! With a conservatory you can work in the peaceful surroundings of your garden without the annoying extras that come with it.
A home office is an ever more integral part of our homes. We're working more hours than we ever have before and the majority of these are being made up at home but turning a spare room into an office is less than ideal. Our homes are filled with distractions: television, the sofa, games and the fridge being the worst offenders, but a conservatory is set apart from the heart of your home meaning you can shut the door and buckle down without your mind wondering.
Your home conservatory can be anything you want it to be: a room to inspire your hobbies, a room to entertain your friends, a room to relax and unwind, a room for anything you can imagine.