A kitchen is a necessity of every home, for obvious reasons. And a kitchen island is a big plus. It differs in texture, colour and pattern from the rest of kitchen and makes an accent. Almost any kind of furniture can be converted into a kitchen island.
Factors to be considered to make perfect kitchen island:
Nowadays, it seems that more and more people are looking to go green at home. People are bringing reusable canvas bag to the grocery shore. Add a bit of character to your kitchen by adding reclaimed wood or old door for a unique kitchen island topper. This is a great option for a kitchen island and looks great.
A kitchen island is also a way to add more storage and avoid extra kitchen space by using drawers, cupboards as well as shelves. This option comes handy if appliances take a lot of cabinet room or you want to showcase some items in a unique way.
Keep less frequently used appliances out of the way and store dishes, pots within the reach. If you have the space, you could mount an additional shelf above your cabinets for even more storage. Use a tension rod to hang spray bottles and help tame the clutter under the sink and squeeze in a short wall mounted shelf to hold cookbooks.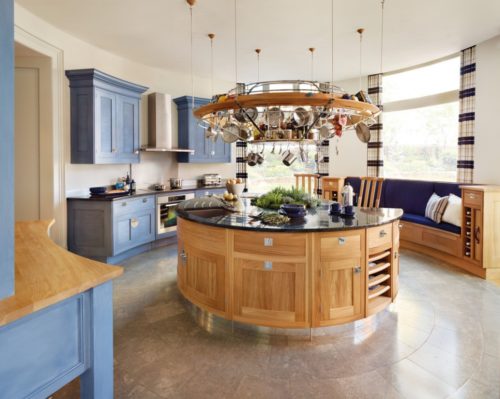 Kitchen Island with seating adds to the kitchen's overall functionality. Whether your space lacks a proper dining table or looking to create more casual bar seating option, easiest way to increase functionality and make environment more social is to add low profile seating to the island.
Leave counter overhang that offers enough room to tuck the chairs or stools to the underneath when not in use.
Kitchen designing is a creative task; it requires innovative people to look into in order to make kitchen island for your dream kitchen. Fresh, out of the box kitchens are inspiring, unique, practical and in some cases, also cost effective.
One more dynamic feature we can add to a kitchen is by creating variation in your kitchen island. By using your island for multipurpose like food preparation and eating, you can maximize utility and make it feel spacious. You can add appliances to one level and create breakfast bar on top tier which makes it multi-usable.
Appliances In Kitchen Island:
Some home owners feel like a mystery about kitchen work triangle, as you know kitchen appliances can easily be most expensive part of a kitchen remodel.
Incorporating sinks into the surface of the island is one way to spread the workflow throughout the kitchen, running downward or overhead venting and allocating extra space to in the cabinet pipes.
Console or sofa table can make a great kitchen island. If you have a trouble finding a console table to fit it, consider stacking two occasional tables on top of each other.
So, at the end we can say that in order to call Kitchen Island as a unique one, it must have proper space, elegant design, multipurpose use and uniqueness so it can stand out from other kitchens with richness.