Japan, Korea, China, Thailand and various other eastern countries have led to the uplift of top Asian bedroom decorating ideas. People are also getting more and more inclined towards the Feng Shui culture prevailing in these countries. Peace of mind and a state of relaxation are provided to the residents of the house when everything in their bedroom is as per the Feng Shui.
Asian artwork
Nothing depicts a culture more than its artwork. Hence, if you have already decided that you want to go for Asian style bedroom this time, go for Asian artwork. These would look great on the walls of your bedroom. These come at an affordable price and are made to complement all kinds of bedrooms, no matter what their size is. Not only the wall hangings, Asian artwork is also depicted in lamp shades or panels. Generally, they come in various shades of red, which is a good color to provide you energy throughout the day and a sound sleep at night.
Get closer to the nature
Asian bedrooms are generally closer to the nature as people in eastern countries like to breathe fresh air and sleep under the moon and the stars. This would be a good idea to go for as it would provide you a relaxed state of mind and inner peace also. The major decorative element in this regard would be a wood sculpture. You can place it behind the bed so that it is behind you when you sleep.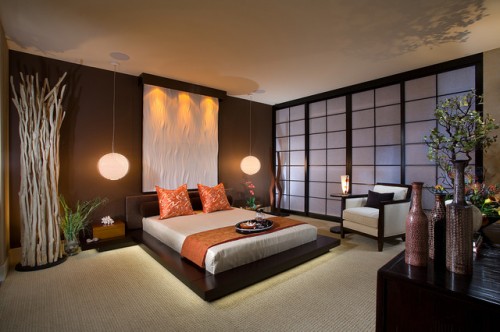 Use chinoserie wallpaper
Since the 17th century, chinoserie wallpaper has been something that most Asian bedrooms have in them. This gives a royal feeling in addition to providing a relaxed feeling. The wallpaper is made up of silk components and is a pure combination of Chinese artwork and western artwork. Many European designers are experts at designing these kinds of wallpapers. Apart from the patterns, landscapes, floral prints or birds could be printed on these wallpapers. However, you must be sure about the budget of decorating your bedroom because this wallpaper is expensive.
Use Tatami platform bed
Tatami platform beds have their origin from Japan and as far as the Asian culture is considered, they are among the most popular Asian styled bedrooms. In Japan, people have used Tatami mats since ancient times and this is how this style grew. The beauty of this style lies in its simplicity and its functionality as well. Any bedroom can look good by using this kind of platform beds.
No matter what kind of home you are dreaming of, a modern one or a contemporary one, Asian style bedrooms are something that would never go out of style. Asian style has the power to combine both modern and contemporary styles of bedrooms. You would get a royal feeling along with peace of mind simultaneously. Adhere to the top Asian bedroom decorating ideas discussed above if you want a modern Asian styled bedroom.