1. Create a tent
A draped canopy always provides a romantic feel like it is cocooned and royal. Create a tent over your bed or sofa from the top of a wall or ceiling and make it cozy for two. This is one of the best 10 easy decorating Ideas you can do in a day.
2. Redecorating the porch
Who wouldn't like to spend some quality time outdoors after supper? A pendant fixture, candles, a bottle of wine, cushions (of light shades instead of darker ones) is the basic keys to a romantic evening.
3. Create a comfy nook
Say you are arranging a dinner for your love or date and he has to wait alone. That wouldn't be nice. The comfy nook you create will surely attract him. It will be even lovelier if you can create a reading nook which is led down by some unique runner. You might as well steal a kiss there.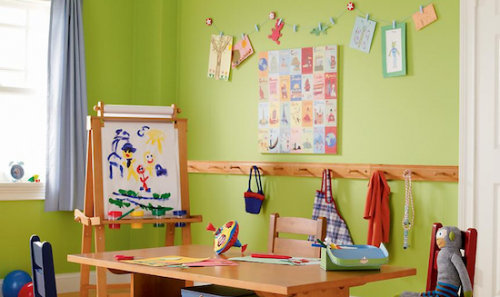 4. Hang a beautiful interior curtain
It will easily conceal the mess of the rooms. Curtains are always known to add a special touch to a room. So don't hesitate to put up any, especially if you have to bring in any sort of partition.
5. Mix and match the bedding
You can mix and match antique and modern paintings or bed sheets and pillow covers or furniture. Do not be afraid to mix and match.
6. Side tables
Incorporate side tables. Side tables are ideal for those show pieces, remotes, books, vases, lampshades, photo frames and so on. Even if you do not face a problem with managing such items, you can simply put indoor plants on these side tables. It would look lovely.
7. Switch up seating arrangements
Nobody has made a rule to keep a sofa in the living room; nobody ever said that only chairs of the same type would look good at a dining table. Yes, Re-arranging the seating in any room is a great idea to try. Keep the seating arrangement away from the wall and do not bring in a division if you have a small room.
8. Mirrors and plates and paintings
If you have mirrors or plates and an empty wall, use them. Simply arrange them in any order or with no order on an empty wall. If you have paintings you never knew where to put up, and then put them up together on a wall to create a bigger art.
9. Neat entrance
You must keep the entrance neat and not clumsy. Hanging plants in the doorway would be nice though or you could go for wind chimes too. Flowers would be wonderful to welcome you or anybody home, so try keeping at least one fresh flower daily for a simple, healthy and elegant lifestyle.
10. Spray paint
If you find your furniture boring, what can you really do in a day? Get over them. Yes, spray paint them in lively colors and get rid of those dull pieces that made the environment claustrophobic. This is how you get 10 easy decorating ideas you can do in a day.