Looking for some stylish ideas for decorating hallways? Then you have come to the right place. Your hallway deserves to look stylish and fashionable, so that you can make the most of this space in your house. By using beautiful lighting, modern furniture and ingenious solutions for storing things, you can make your hallway more than just an entryway. Hallways can really look beautiful if they are decorated in the correct manner. It is not at all stylish to leave the hallway dark with the staircase standing tall. Transform your lackluster hallway into an eye-catching corridor, by using some mind-blowing ideas.
Two-toned Prominent Effect
Go for a chic makeover of your hallway by painting its bottom half in darker color. Next, you need to use a chair-rail molding, at the center of the wall where the two colors intersect. This is a very stylish decorating idea that works wonders on hallways which are very narrow. This hallway decorating idea also makes your long staircase appear shorter because, the first seven to eight stairs will have a wall in a different color beside them.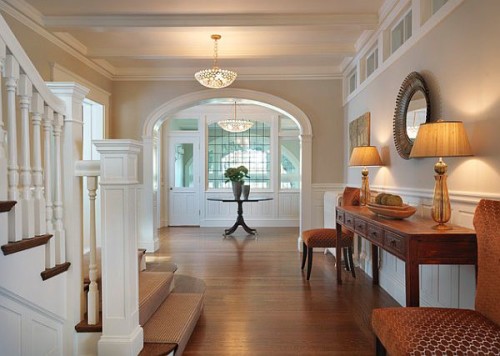 Photo Clusters
Grouping framed photographs together on the hallway wall is considered artistic. You must avoid the conventional style of decorating the hallway by hanging photo frames in a line or row. You can collect all unused frames in the house and even buy some from the market, to deck up the entrance way. Polish the frames and spray paint them in lustrous white. These frames can be of varying shapes and sizes, but it is important that they are of the same color. This is where you will find a stylish element for decorating the hallway. Group the photos together in a whimsical manner on both sides of the hallway.
Focal Point
For long hallways, having a blank wall towards their end is the only thing that you require for bringing life to the walls, by using very stylish display. You can draw the attention of onlookers by using a huge colorful painting or a console table along with a wrought iron mirror. This will transform your hallway into a passageway for something beautiful. Do not make use of very large mirrors because they will reflect the hallway and make it appear twice long.
Runner Illusion
To give an illusion of a very wide hallway, make use of a runner rug having horizontal stripes. Your walls will seem to be pushed apart because of these horizontal stripes, giving an illusion of the hallway being very wide. On the contrary, if you want to make your insignificant and short hallway appear more prominent, you can use a runner rug with vertical stripes.
Paneling Illusion
Make use of floor molding for forming a visual illusion, if you want to make your hallway appear shorter than it actually is. Attach the floor molding to the wall, by positioning it vertically from the floor to the ceiling. You can add extra floor molding every two feet. Paneling illusion is one of the best stylish ideas for decorating hallways and it also helps in creating a very stunning effect.