The wall art ideas can be changed into amazing realities by making use of different objects that range from stones to pebbles or even scrap bottles to framed photographs and photo canvas prints. To have an unusual and striking design one can even consider creating photo wallpaper from the most unconventional materials .Appealing wall art can be created for the home interiors with the most unconventional designs. Here are some of the strikingly unusual wall art ideas.
Bottled wall
This can be the most unusual and yet a striking idea for decorating the wall of the dining space. What this should need is a collection of bottles of alcohol from all brands and types. The bottles can be arranged in sections in the wall and each of these sections is to be highlighted making use of a fluorescent light. Glass covers for the cabinets complete the wall decor imparting an unusual yet decorative look to this unique wall.
Tiled wall
Tiles are as antique as they are modern. They can make a wall appear beautifully unconventional by being capable of offering a traditional and conventional look on it. Moreover, these can certainly be used to create the most impressive of the wall designs. What matters is the choice of tiles. However, it would not be much of a shock, if the tiles used on the wall are not similarly sized or symmetrical. A mosaic of dissimilar and asymmetrical tiles on the wall can offer the much desired unconventional and unusual look to the wall.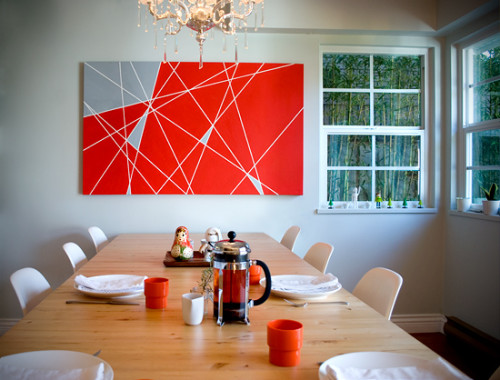 Pebbled wall
How about going for a rugged wall surface for the bathroom with a hint of the exoticism of the beach? The pebbled surface of the wall offers the bathroom a feel of a luxurious spa parlor. For a more polished and symmetrical look, the pebbles can be replaced with similarly shaped tiles that are laid against the wall to give it a uniform pebbled look. The wall looks exquisite and is heavily textured.
Stoned wall
Going for a stoned wall can be an unusual way to celebrate the inherent rustic nature of earth. A collection of uniformly shaped or asymmetrical blocks of stone can be set up in the most careless fashion to create a unique wall design while being eco friendly.
Wall designed with pottery
The earthenware can look as good when decking up the garden wall as they do when standing up by the corner of the living room or dining space as showpieces. Broken pots of clay of various designs can be used in the most artistic way to decorate the garden wall. This unusual piece of wall art can also be tried on the garage wall to achieve the desired rustic look.
Vintage framed wall
A collection of vintage frames with photos, writings, or paintings can make a beautiful as well as a striking wall decor theme.