If you have a fantastic living room and dining area but with the window panels shabbily kept and maintained, do it look good? Definitely not! As always said people look at the black spec on the white piece of paper. You need to decorate window panels and shutters in such a way that it complements your living room, dine area, bed rooms, bathrooms etc. Then you get a picture perfect look of how an ideal home should be. Here are fantastic ideas pertaining to the same.
Curtains which perfectly complement the living area
The sofa sets which have a mix of blue and white pullovers depict a typical oceanic coastal theme. The window shutters can be off white with an oceanic blue covering the corner trims. The window panels compliment the décor with which the room is well designed.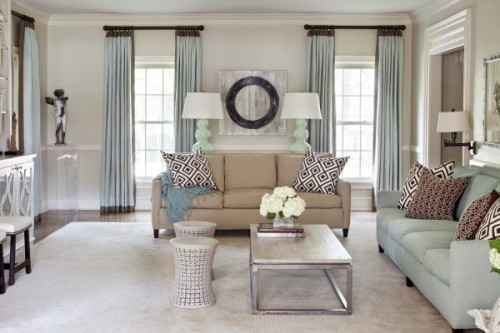 Fun with window treatments
If you want to send a message through your bedroom, here is how you can create a worded illusion. You can paint shutters put up on windows with Good on one of them, and night on the other. You can word shutters adjacent to each other representing emotions still the better way with 'Sweet Dreams', 'Have a lovely day', so on and forth.
An elegant touch of luxury
You can add a touch of elegance or luxury to your window shutters or panels. Hang in curtains which are little bit extra silky demure blue in color. Extra yards of fabric are indeed required to let the curtains drool over the floor and thereby create a puddle effect.
Double shaded
Just like how needle cannot be separated from thread and bread cannot be done away without jam, the double shaded interiors across window panels also need to complement each other quite the similar way. The shutters covering French glass windows are pine wood colored. And the curtains are colored green with white. It leaves the surroundings more spacious or airy for guests to have an awesome time at your place. You can have pleasant evenings in the double décor room with hot cups of ginger lemon or honey tea.
Vertical stripes
Do you want the living rooms to resemble a candle lit area? Fret not! Use curtain blinds which have nautical stripes or huge vertical lines all over. You are having the drape covered with light and dark blue shaded stripes then set of blue candles can be lit upon the table. These give a sophisticated and bright look to your living cum dining area. You can invite your partner or fiancée for a sumptuous dinner after making all floral arrangements and setting the table with a lavish grandeur. For a gang of friends you can select a different colored theme.
Pop of color
You can select café themed or a floral multi colored print for those kitchen curtains. The linen adds a dash of freshness and radiance to the all-white kitchen. You can place indoor plants which require minimum watering and sun shine to add to the cool effect.
Chevron prints
Do you want the mundane sitting area to resemble a glamorous décor just the way it is shown in Hollywood blockbusters? Here you go! Take vertical striped chevron prints on window shutters in the sitting area. You can listen to soft music while enjoying the interiors of the decorated windows.
These simple and fresh ideas of budget friendly window treatments go a long way in adding better looks to your home or multi-faceted villas.