Decorating home or apartment is not an easy task at all. For this purpose, we need some innovative ideas in order to customize our home so it can become more spacious, comfortable and attractive.
Aquarium Bed: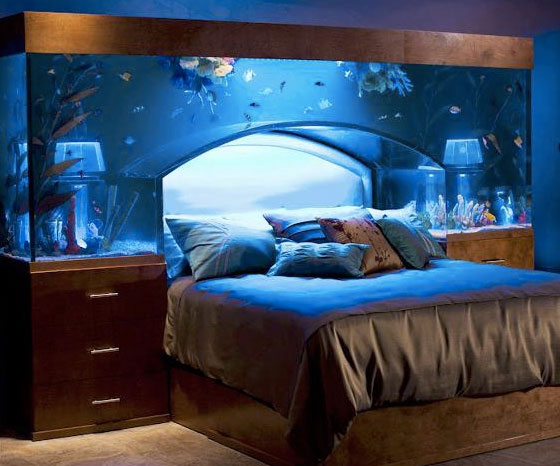 Custom made aquarium bed is one of the most beautiful things to have in your home. It surely brings new concept to waterbed to have nature journey with fishes. This custom made aquarium literally surrounds your head, if you want to make your bedroom look unique and stunning, then this is the best option.
Swing Set Table:
This combination of chairs swings and dining makes it amazing and provides an all round impact in the way of home furnishing. It is really a great option to bring playfulness in office or dining room. This swing table is made up of sturdy powder coated steel and comes in various ranges, plus finishes.
Spiral Staircase Style:
One of the best part about this staircase is it can suit indoor as well as outdoor spaces and can be built in any accessible corner. They are ideal options when you have a limited space.
Depending on the material used, spiral staircases usually get elegant design. The lightweight spiral staircase certainly gives richness to the house.
Hammock Bed:
If you really love your sleep and you are looking hammock bed for sleeping, then priority is to find one designed for optimal sleeping and comfort.
Brazilian style hammock beds are ideal for a comfortable sleep and also in case you are looking for bedroom hammock to sleep in. Most possibly, you would want something that is stylish as well as good looking.
Tree-House Room For Kids:
We all agree that providing children with a wonderful living space in which they can thrive, play, as well as learn paramount activities is of utmost importance. As we know, children's surroundings can have a huge impact on how they grow and develop, so parents always try to make their children's living spaces comfortable as well as fun within their means.
Indoor Slide:
For some homeowners, their home is their playground. Nowadays, getting an indoor slide is not new, but the idea is spreading.
Slip and slide is always a fun, whether it's plastic like custom made version, steel, timber or some other material. In some designs, slides are surprises hidden in the wall.
Kitchen Table Tennis:
If you are table tennis player and looking to improve your skills, then surely there is no better place than your kitchen. Folding game kit, set unfolds into complete table tennis playing area that covers the kitchen tabletop. Once you get bored of hitting little balls with hand paddles, you can reverse the wooden slab to reveal chess.
Backyard Office:
Working from a home office is a growing trend and many people are finding job opportunities where they can work from home. With the use of this concept, you are truly helping the environment by taking one car off the road. Using part of home as your part time office certainly adds value to your property.
Conclusion:
So, at the end, the point to get is innovation always comes from smart and reliable thinking. In order to decorate your home with hint of innovation, you can try:
Decorate room with Garrick pillows
Use space below the stairs
Have reading Corner
Turn basic garden shed into artist's shelter
Pest examination system into wall