Illuminate your outdoor space subtly with the help of some amazing ideas on outdoor lighting fixtures. Lighting fixtures can add glamour to your home while increasing its function. They are one of the most important aspects in any room that create a perfect ambience both in the terms of style and function.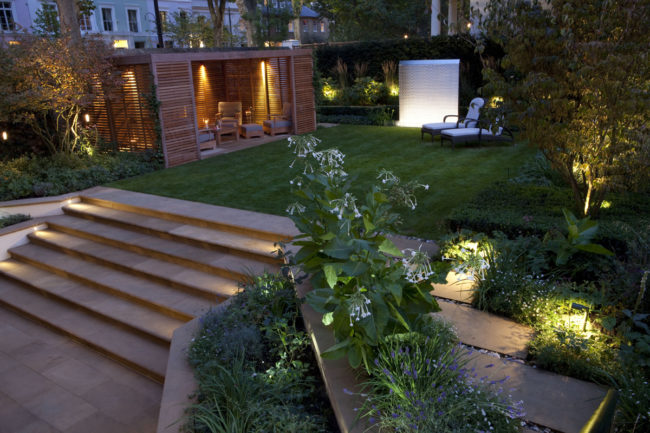 Floating candles
Light some scented candles in a big clear bowl filled with water andRose petals and see the magic they bring to your outdoor garden. The gleaming candles are a great way of making your nights romantic. These are least-expensive and also easy to make.
Candle chandelier
If you have a small seating arrangement in your garden, you can go for a candle chandelier hanging overhead. The glow of the candles brighten the evenings beautifully. The elegant chandelier also increases the aesthetic appeal of the outdoor garden.
Glowing glass jar
Another cheap and a creative way of brightening the outdoors is by making your own lighting fixture with glass jars. You can use candles and place them in a big glass jar filled with sand for sturdiness. Otherwise collect some small clear bottles, make wicks and light them up with lamp oil. Place these bottles in a big, sturdy jar and you have your own lighting fixture.
Basket chandelier
You can make your own chandelier with the help of wire basket and some candles. Use small glass jars or bottles and place tiny squat candles in them. Decorate the basket with the help of some ornaments and hang it in your patio or garden. Light it up and you have a beautiful, glowing chandelier.
Light strands
You can add a subtle glow to your garden with glowing light strands. White lights brighten the surroundings splendidly. Arrange these lights beautifully over trees and branches. This is also an inexpensive way of lighting the outdoors, especially when you are having a party time.
Glowing flowers
Candles and flowers are perfect for turning your outdoor evenings romantic. Arrange them on tables in your garden and enjoy your relaxed summer evenings. Use tall glass jars and tie bright colored, stemmed flowers such as a dahlia with a ribbon on the outside. Place each of this candle jar and flower set in a small tray filled with water, so that the flowers remain fresh.
Gleaming shells
Bring home an element of seashore by lighting up with shells. Choose large shells for this purpose. Fill sand in a big, colorful tray and arrange different types of your favorite seashore collections such as shells, cones and stones. Place candles between these arrangements and set this tray on your outdoor tabletop. Enjoy your quiet evenings watching the beauty of the glowing shells illuminating the surroundings softly.
Sand candles
Another inexpensive and the most convenient way of lighting up your exteriors, is by using sand candles. These are easy to make at home too. You just need to place a squat candle in a glass container filled with sand and place this container in another glass jar. Fill the bigger glass jar with sand in layers of desired colors. Arrange these colored sand candles on the table of your patio to turn your evenings cheerful.
Bamboo Candles
Go green by lighting up your outdoors with bamboo candles. These can also be made easily at home. Bamboo candles also act as beautiful decorative pieces. Arrange these candles in a tray decorated with twigs and flowers and place it in your garden and relax in the soothing glow.
Hanging Lanterns
Add a romantic touch to your garden with a beautiful lighting fixture. You can choose to use small readymade lanterns to light up your exteriors or make your own glass lanterns at home.Place tea light candles in small glass jars and hang them up carefully at different heights on branches of your garden.