Murals are rapidly surfacing as the way forward when it comes to decorating your office spaces. Murals are an attractive and pleasant alternative to drab wallpaper and decorations, and provide a number of benefits to the modern workspace.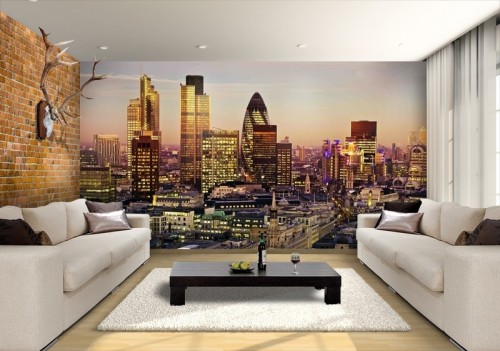 Murals bring traffic into a business
Many businesses claim that investing in murals is one of the best things that they could have done to add to their sales. Murals are unique and become landmarks for the company that uses them. Your mural becomes a sort of personal design for your business, where you can "create" the atmosphere you most desire. It could be either the very sort of locale you most want to visit during vacations, or it could be the image of your business that you wish to project to your clients. You can tailor the murals you use to your personality, your tastes and most importantly, your budget.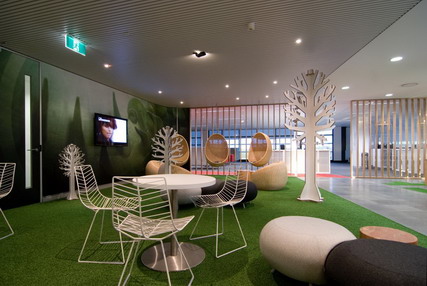 Lend personality to your business with wall murals
In order to add character, depth and personality to your office walls, murals can be employed to convey a number of different ideas. With such popular techniques as faux finishing and Trompe' l'oeil (which actually means 'the art of illusion') corporations and business are completely reinvigorating their workspaces. Using faux finishing, for example, an ordinary wall can be transformed to represent an illusion of marble, granite, aged tile, sandstone and many other kinds of surface. Trompe l'oeil is a different kettle of fish. Using this technique, objects can be added to your walls to decorate your business the way you like it. So, if you want to go old-school, you could add an illusory fire-side. If you need more windows and skylights, you can get them without the hassle of installations. In this way, you can create an illusory aura around your business to draw in customers, and have fun while doing it!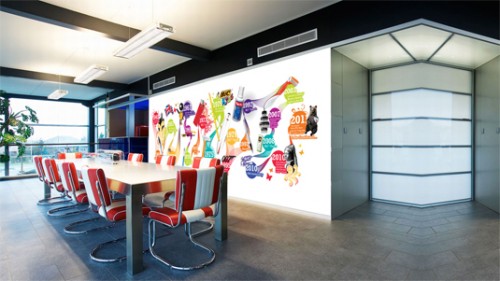 Be creative and get the professional look you want for your office walls
Customization is a big part of having wall murals in your office spaces. You can use your office walls as a sort of canvas for your mind. When applying for a mural to be made, ensure that you detail the things you want in your custom made wall murals. The project information should be complete and you should ask for full value for your money. A big benefit of having wall murals done is that you are getting (and are part of the creation process) an original work of art. And your business can boast with its walls when the finished mural goes up on it. No two customized murals will be the same. You can either do the murals on the walls themselves or on canvas, so that you may carry them around with you. Specifying the type and size of the canvas is a good way to ensure you get exactly what you want, and fit your pocket into the bargain. Even if you shift offices, you can carry the old one about by taking down your canvas murals and simply shifting them to the new place.