Without festive decorations, holidays just don't seem complete and these holiday decorating ideas for the home can help in creating a new refreshing look for the house without much of an additional expense.
Make use of available things
Instead of rushing out to some craft store, one should first make it a point to visit the storage or attic room. Memories tend to fade out with the passage of time so it can be refreshed with the already available holiday decorations. There are plenty of resources available these days through which it is possible to make some simple additions to the existing holiday decorations and make them look like new.
Flaunt colors of your choice
A good decorating idea for the home is to come up with a personal decorating plan by choosing the texture and color that is most preferred. Every year, stylists and designers are seen promoting hot new color schemes which instantly become a hit. So, one can definitely come up with a color of his/her own choice except the color green because it is Christmas neutral. If the new decor item consists of a minimum of two personal choices then chances are high that will work.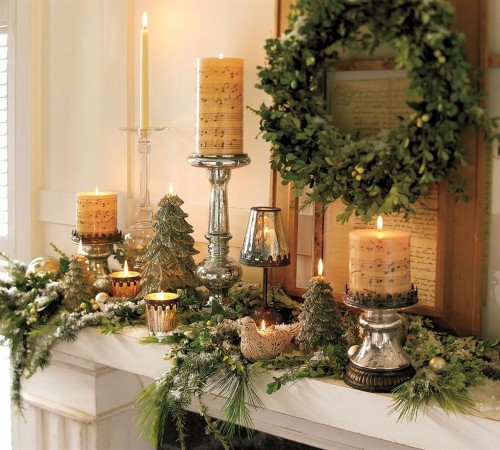 Back to nature
The primary aim of every house should be proper integration with surrounding natural environment. Those who are planning to introduce new paints inside the walls of the house should keep in mind that the selected colors should be complimented by the colors of nearby natural surroundings. It is always a good idea to include natural materials within the house so that apart from the fresh look, the house looks nicely decorated.
Display souvenirs and collections
When it is time for the holiday season, there is a need to unpack all those collections that are kept away at some place safe. Ornaments, postcards and souvenirs can be used for decorating the Christmas tree in a unique way offering it with a look that is easily distinguishable. Apart from souvenirs and collections, simple items easily available within the house can make up for great decorating items by getting a bit creative and putting those innovative decorating ideas into action.
Makeover photos within the home
Reframing family artwork and the photos is considered to be another holiday decorating idea which can spruce things up inside the house. Even though, gold is the preferred choice of most people as it has a festive effect, silver or polished chrome are equally lustrous. One can also group together frames of different sizes to create gallery inspired effect that can truly create a dramatic and attractive look.
These holiday decorating ideas for the home can be considered as some of the best ways to decorate the house while the chill starts to settle and marks the arrival of the holiday season.