For all those in search of some tips for summer outdoor dining can go through the internet and find loads of options. Usually people who host parties will surely enjoy more and can look forward to provide a different experience to their guests. It is not as difficult as it looks and one can easily arrange everything just like the normal dinner that they have at their home.
Canopy
It is very easy to set this. One just needs to have four poles that can sink properly and are secured with a large fabric. This will even provide protection from the sunlight in the open. One can even use tent pins as it will help in securing the poles and through this even the winds cannot destroy the canopy.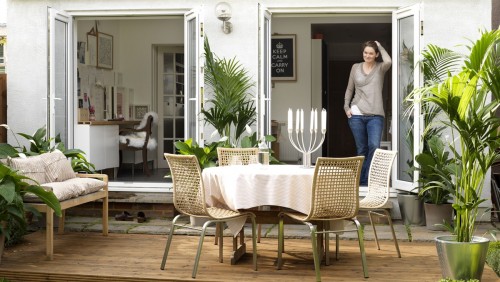 Kitchen set
Outdoor dining is usually related to a picnic. Here people just need chairs, tables, decorations, summer flowers and good food.
Runners
One should look out for runners of various colors. These help in making the setting much better and add life to it. People can either have the runners laid across or place them length wise. If they use different runners, then they should make sure that they are of same fabric.
Driveway
If there is a driveway that does not come into use then people should try to turn them into stylish patio. It will be the best for having good settings in the outdoor dinners. Some people prefer grass lined up while some like to have stone pavers in the outdoor dinner settings. It provides a very natural and beautiful look.
Enclosure
It is always a good idea to have custom designed gate for these patios as it provides intimacy. The gate should separate the area from the garden and offer a different feel. Through this design, one can also make sure that the outsiders are not able to see them dining.
Curtains
People should set alcove near the dining area. It is very easy to set this and it should be placed along the wall grid near the table area. People can place candles in these grids as it would shed proper light on their dinner set. This setting will surely add some romantic vibe during the dinner.
Cocktail area
This area is the best for having dinner for guests. If people have some special area then they could mark it with the help of a good rug. Guests can gather here and dinner can be served to them properly.
Some of the things that can help in making this even better are laying comfortable cushions on chair and also having craft paper on table. Along with this one should even have an umbrella as it adds elegance to the outdoor dining room. It is very important to focus on the comfort level and make the summer outdoor dining much relaxed.