Open plan living is the must have interior trend splashed across some of the elite home décor magazines and Pinterest too – and if it's high on the Pinterest agenda you know it's a trend to consider.
Open plan living can give you much needed extra space in your home whether you want to work or play, but styling up a larger space can be tricky. Luckily we've put together some interior inspiration to help you make the most of your open plan home.
Define Different Areas
The temptation to decorate in one colour palette and style can be all too tempting when you're trying to decorate a larger space, but it can actually look bland and lead one area to blend into another rather than create the stylish abode you desire.
One of the most popular open plan spaces to create at home is a kitchen, lounge and dining area, but whilst you naturally want everything to tie in with one common theme it's essential you define these different areas.
Placing a rug or different style flooring under a living area can define an area for relaxing, similarly the dining area should be the middle ground between the kitchen and living area. Think about how you'll use the space once it's finished and the flow of movement from one area to another.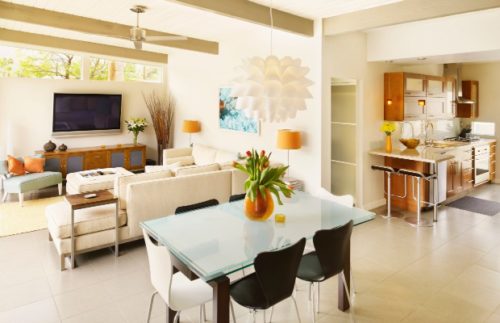 Clever Colour Schemes
We hate to be boring but neutral tones really are the best choice when choosing a theme for your newly expanded home. Overpowering a big space with large blocks of bold and bright colours will simply create a headache.
Instead look to light greys, off whites and pale blues for a subtle hint of colour on your walls and add brighter accessories to give them room a lift. Soft furnishings such as pillows, throws and rugs can all provide a much needed colour boost.
Light Sources
The one problem you may find with a larger square footage is filling it with natural light sources. Artificial light just doesn't quite cut it when it comes to giving off a natural glow, so in the early stages of your build make sure you design the area to incorporate lots of the natural stuff.
Roof lanterns and large bi-folding doors can both help to allow light to flood your home. Roof lanterns take up no valuable wall space as they sit in the roof of your home and bi-folding doors allow you to bring the outside in during the warmer months.
Luckily lighting is often a focal point of the home so go to town on the style you choose to add that special wow factor to a room. Whether you choose retro floor lamps or ultra-modern space saving spotlights there's a lighting style for everyone.
Create Subsections
If you don't want to go the whole hog and create a completely open plan floor space then include partitioning half walls to clearly define different areas. If you want the option to shut areas off and open them up whenever you want then sliding doors can allow you to do so.
How you style up the area will dictate how you use it, so place furniture strategically in the room to create how you move around the space. Kitchen islands and tables placed in between cooking and socialising areas can help to separate the two zones.
Open plan living isn't for every, so make sure you consider these tips before you knock down any walls, but if you do decide to take the plunge a bigger, happier home awaits.