If you're on a tight budget, decorating can sometimes feel like a daunting task. However, this doesn't have to be the case because there are so many bedroom updates can be easily achieved with very little money. All you need is some time to spare and a little bit of creative flair.
A Splash of Colour
A couple of tins of paint aren't particularly expensive, and you can give old pieces of furniture a new lease of life by painting them. This is also a good trick for making mismatched pieces of furniture look more cohesive. Changing the wall colour in your bedroom can completely transform the room's atmosphere. It's best to choose a calming colour for the bedroom, as it is primarily a space for sleeping and relaxation. Stick with creams, pale pinks, pastel blues and greens, and lilacs if you're worried about a darker shade having a negative impact on the quality of your sleep. For those who'd like a richer colour in the bedroom, it's a good idea to pick one wall to feature, and keep the other walls muted. You could even use a busy, patterned wallpaper to create a feature wall. Flocked papers are a particularly stylish bedroom choice.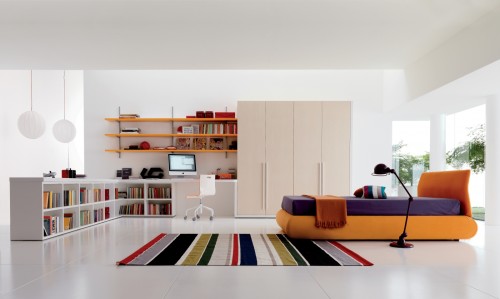 Wall Decorations
You don't have to spend a great deal of money to decorate the walls of your bedroom. Try hanging up a pattered blanket or an embroidered throw to create an instant focal point in the bedroom. You can also hang strings of inexpensive fairy lights or bunting that can easily be handmade with coloured paper and string, to add interest to the walls. Wall decals are another budget wall solution, and can be easily peeled off without damaging paint or wallpaper.
Mirror, Mirror
For those with unframed bedroom mirrors, you can hang the mirror and paint a decorative frame around it for a fraction of the price of buying a real frame. This creative solution will also add interest and individuality to your bedroom.
Bedroom Furniture
There's nothing wrong with second hand furniture, so if you're strapped for cash don't hesitate to browse charity shops, auction houses and car boot sales. You can often find some unwanted gems online, and many people are willing to give away old furniture. Shabby old beds and dressing tables can always be spruced up with a lick of paint or a pretty fabric covering. If you do intend to buy new, it's definitely worth investing in a high quality oak piece, like those available from Fortune Woods. Although this will involve spending more, choosing long-lasting furniture will actually save you in the long term.