Ideas for Christmas home decorations go a great way in helping with the concepts to deck up the home for Christmas. There is a whole range of festive designs that are appropriate for the purpose. In fact, the decorations for Christmas are special which impart vibrancy and colour to the home.
Brighten up the front door
The white door can be accentuated with the use of deep evergreen garlands and red ribbons. The combination of red and green make the door look graphic. For the dark hours, miniature lamps used in the Christmas tree can be fitted in beautiful patterns. This not only adds a light glow but also makes the door visible from a distance.
Wrap up columns with garlands
The features of the home architecture can be highlighted by decorating them. For instance, if there are pillars, they can be wrapped with evergreen garlands evoking a sacred feel. Allowing the miniature lamps to twine around the pillar so as to light up the garland as it moves up would bring a about a festive feeling to the home instantly.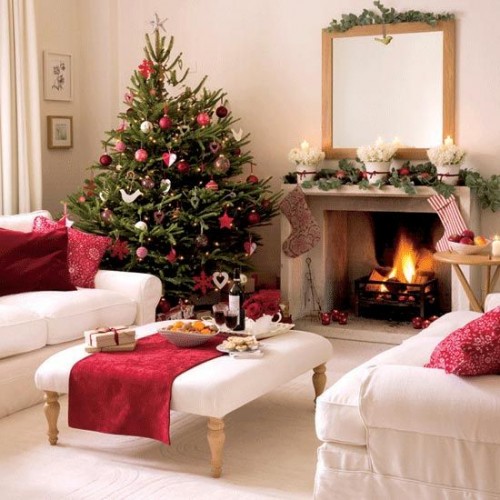 Display advent wreath
For your Christmas home decorations, pull an easy and quick advent wreath, by way of grouping the pillar candles that are wrapped with thread strands. The candles can be then arranged in a large bowl made of wood, with black-eyed peas, artichokes, and pomegranates.
Pendant lights
The kitchen can be decorated with pendant lights or they can also be over the island with garlands. You would thus have your kitchen turned into a place where guests can be welcomed. The open floor will help in keeping the cook connected with the festive mood in the Christmas morning.
Deck up the staircase
The staircase should not be forgotten while decorating the home for Christmas. Simply putting a garland over the handrail would make the staircase appear decorated while inducing the festive feeling. Gold bows can be used for anchoring the drape garland for a Christmas welcome into the hall.
Pick up colours that match the decor
Christmas home decorations should be planned in a way such that they go well with the existing decor of the house, even when it comes to colours that are unexpected as beige or cream. For instance, if the dominant colour of the room is white or ivory, or any shade of white, gold and silver accents would blend with the colours to offer a touch of sophistication to the room. Furniture with deep hued frames, contrasting the colour scheme of the room would play off the one-colour monotony.
Create a breakfast nook
Fit in a small table and an upholstered banquette into a corner to make a small nook for breakfast in the kitchen. It would offer the most ideal place for having coffee or a short meal or even a Christmas treat.