The season of Christmas has approached and the celebrations are now in air. It is time now for families to get busy adorning and cleaning their offices and homes. Christmas is one festival that is enjoyed and celebrated with great joy, pleasure and pomp. The decorations during Christmas form the most important part of this festival. People try out various ideas in decorating their homes and Christmas trees that are specially bought for this occasion. Celebrating Christmas reminds of Christmas wreaths, Christmas candles, Christmas trees and most importantly, Santa Claus. Christmas and its decorations serve as visual treats and they are fun. Some of the Christmas decorating ideas for 2013 that would add to the elegance of your home have been enumerated below.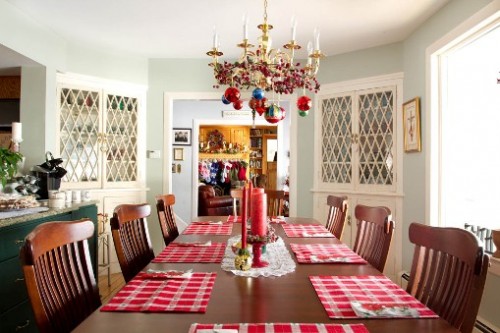 Dressing up the Christmas tree
There can be absolutely no doubt in the fact that Christmas is never complete without a Christmas tree. It does not matter whether people have a Christmas tree that is six foot long or whether it is two foot but it really matters to have a Christmas tree during Christmas. The Christmas tree should be bright, fresh and it should smell good. For decorating the tree, the choice of color scheme is very important and the color scheme can be gold, silver, red and even green. A mix of colors can also be used for the decoration and along with the colors it is also important to put up the lights quite well followed by garlands and ornaments.
Spicing up the mistletoe
The mistletoe is usually found hanging on the doorway but there are different other ways that can be used creatively in rendering a fresh and classic look to the home during Christmas and that too without putting in a lot of effort. A clean string in white can be stretched over the doorway and the mistletoe can be clipped along with the string with the use of wooden clothespins. Extra variation can also be given by painting the clothespins in festive colors found during Christmas.
Place for board or Christmas greetings
This is something that is creative and at the same time beautiful. Christmas cards can be converted into an art by wrapping them up and placing them on a board made out of attractive fabric. Disappearing ink can be used for making a snowflake in the board center and then a ribbon should be pinned on the snowflake and the thumbtacks should be covered with buttons. Glue can be used for sticking the buttons and at last greeting cards can be placed on the board. The results would be simply fascinating.
Ribbon-wrapped doors
This is especially for kids who would love to enter homes that have doors wrapped up in ribbons. Large ribbons can be used for creating bows on the doors while small ribbons can be used for wrapping up the entire door. Gift tags can also be used with small sayings in order to make the decoration even more interesting and fun.
Use of wreaths
It is very common during Christmas to find wreaths on the doors but it would turn out to be completely different to find wreaths on the windows as well. Not only the external windows but even the internal windows can be used for this purpose in order to change the entire appearance and look of the home. These are some of the best Christmas decorating ideas for 2013 that can be taken into consideration for a proper Christmas home during the festival.