Sunroom decorating ideashelp you enjoy the natural light that enters these rooms brighten up the rooms while also allowing you to save some energy in the process. There are many such decorating ideas that make the space lively and can be found on the internet too if you have any difficulty in finding the right choice for your personal requirement. This list of 10 sunroom decorating ideas helps you meet your specific requirements and can be tried to bring some changes in the home.
1. Convert your sunroom into a family entertainment room
If you have a sunroom which is well protected from the outside elements, then you can convert it into a family entertainment room. You can decorate the sunroom with black and white monochromatic schemes.
2. Creating an impression of extended space
If you have a large sunroom which opens up to a garden, you can use sliding doors and windows which would extend the living space. The décor of the room should be selected by keeping the décor of the other rooms in mind.
3. Using mirrors in your sunroom
If you have a small sunroom you can create the impression that it is large by placing mirrors in strategic locations around the room. The light reflected back from the mirrors would give an impression that the room is large and you can further enhance the effect by painting your walls with white colors.
4. Using windows as a wall space
If your sunroom has two large windows but no wall space, you can take the window which is used less and then convert it into a wall space to hang your artwork and other things.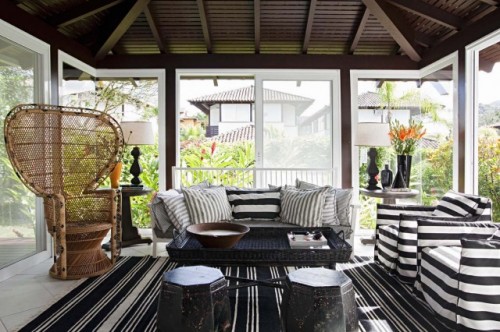 5. Adding a daybed in the sunroom
You might have a bench which is not heavily used in the room. Here with a little imagination you can convert the bench into a daybed and have a few colorful curtains hung from the windows near it.
6. Breaking the sunroom into various zones
You as a homeowner can break your sunroom into different activity zones like dining and living rooms. All you would need to do is coordinate the furniture's and the décor accordingly.
7. Using classical furniture in your sunrooms
If you do not like modern designs than your sunroom can enjoy classical aesthetics, by using traditional furniture's which are easily available. You can also add a small chandelier in the middle if your budget permits you.
8. Working with different colors and textures
If you have a large white colored sunroom you can introduce warm spots in the room by using different handmade tiles in the study area or a rug using different materials in vibrant colors can be kept on the floor. These small changes would give your room a great makeover and be pleasing to the eye too.
9. Concentrating on a spectacular view
If your sunroom opens up to a spectacular view of your garden which has many vibrant flowers growing in them. You can decorate the room accordingly and use the view to your advantage.
10. Add a splash of pop color
Neon colors are a big rage now days and you can use them in curtains and cushion covers to add the extra zing in your sunroom. This would become one of the most popular among all the 10 sunroom decorating ideasthat you can implement in your sunroom.