These 10 stunning white wall decor ideas will help people in pulling off pristine white inside their home. In shades of cream, snow and ivory, this classic color is just perfect for any room – from the main living area to the powder room. The following lines will be summing up the white wall decor ideas.
1. Pop of colour
One should be putting a bright accent color so as to stand out inside the kitchen. The color accents need to be sprinkled throughout the white-colored accessories and scheme. It helps in creating a sense of unity between two spaces.
2. Blank canvas
White cabinetry and walls provides a neutral backdrop inside a kitchen. Open shelving helps in making the kitchen look spacious and an all-white dishware adds a chic touch.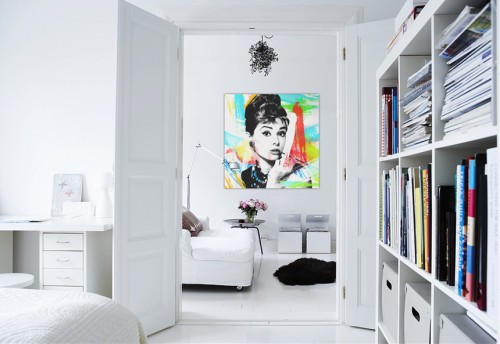 3. Two-hue style
The best way to achieve a cohesive look is to add a splash of one color to the white palette. It helps in creating a sophisticated and clean bedroom. Different intensities of the same hue can be used to introduce depth.
4. Colourful accessories
The white walls of colorful rooms need to be cohesive with the decor of the rooms.  One is required to form a connection between the accessories and furnishings by hanging various artworks matching the color scheme.
5. Handling dark furniture
At the time of showcasing dark furniture, there is no other color that provides the perfect backdrop other than white. Dark-tone furnishings and rich-wood floor warm up the white walls.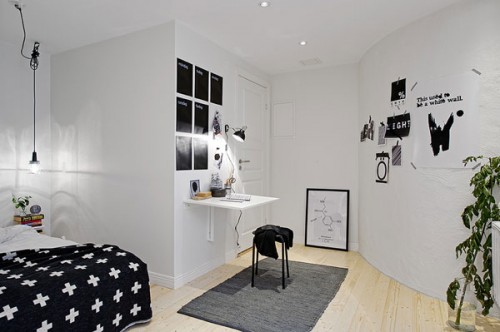 6. Odd Pair
As far as the stunning white wall decor ideas are concerned this style has been among the popular ideas for the last decade. White wall arts on an all-white wall make for an effective and interesting statement.
7. Shelving choices
Visual inspiration can be offered by the basic shelving choices when one sprinkles some favorite items into the mixture. Vases, books and random accessories help in bringing the shelves to focus.
8. Cool concept
Using antique wall art can create a fantastic design element inside the kid's bedroom. Story-themed art can be arranged side-by-side. It makes the room sophisticated and kid-friendly. White bedding and bed frames allow the wall art to stand out.
9. Standout tile
The deep crevices and unique shape of white tiles make way for an appealing decor inside the modern bathroom. A vase of flowers and a colorful toothbrush holder adds simple value to the space.
10. Beaded Board
A clean and crisp look is created by white color palette inside a kitchen. Beaded board walls and ceiling adds texture so as to prevent the place from looking too boring and plain. A wooden kitchen table in the middle of it puts the importance on the meeting area for family and friends.