These 10 floral decorating ideas are a great way to bring in the freshness of flowers into your home in many ways depending on your personal style statement. Floral designs offer great impetus to the creativity of an interior designer and they can be used in many ways in your home. In fact, floral decoration is so much popular now-a-days that a number of people are opting for it while beautifying different parts of their homes.
1. Select floral prints in your cushion cover
One of the simplest ways to change the look in any room is, adding cushion covers which have bright floral prints on them. Depending on the existing décor in your room, you can add cushion covers with floral prints which might sport small or large prints on them.
2. Opt for an organic shower curtain in your bathroom
Bathrooms are areas which receive least attention from their home owners. You can make your bathroom look different by adding a little glamour to it by using organic shower curtains which have great flower prints on them. With this little introduction you would see many of your family members singing away happily in the bathroom.
3. Paint your stackable boxes with your favorite flowers
Every household needs the extra space to store a few things which are always needed around the home. You might be having a few stackable boxes which you can paint using floral designs and then keep these boxes outside the cabinet storing your necessary things.
4. Slanddinnerwareis perfect
Sland dinnerware is a great way to implement floral decorations into your tableware. The white and navy colors never go out of fashion and can brighten up any dinner party.
5. Using floral prints on your cozy quilt
You can bring in the beauty of a garden into your bedroom by using floral printed quilts. For a change you can dump the white colored quilts and add some zing in them by using pastel shaded or bright colored floral prints on your quilts.
6. Flower printed wallpaper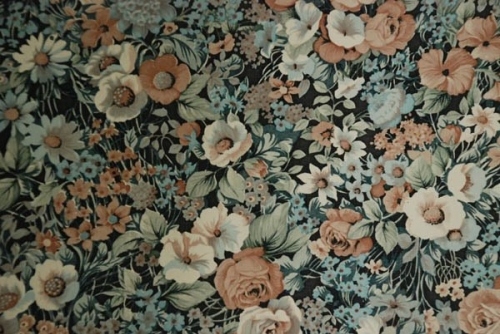 If you are little short on cash but still want your rooms to look beautiful, here is a great advice. You can invest in some bright flower printed wallpapers and this would cool your room and make you smile.
7. Choose floral printed salad plates
If your room sports a minimalistic or monochromatic color scheme you can break the monotony by adding brightly colored salad plates with flower prints in them.
8. Floral print on your rugs
When you place a geometric designed floral printed rug in a room, the ambience of the room changes immediately and the entire room livens up. You can check which material would be suitable and then select the rug.
9. Framing dried flowers
If you have a garden you can dry a few flowers and frame them after they have been dried. This small element would add a classical touch into your rooms.
10. Other floral accessories
Some other accessories such as door mats and linen in almost every room can be chosen with floral prints on them to make a suitable theme all over. Floral theme that is in colors such as blue and aqua are known to create wonders when it comes to decorating your home.
Once you have gone thru the above 10 floral decorating ideasyou would be in a better position to understand which of them can be used in your home in the most effective way.