10 decorating ideas for springhelp you to usher in this beautiful season by using your own innovative ways. Spring is a lovely season and loved by all. This is also a time when you can enjoy great outdoor activities and the low temperatures would slowly disappear. Not only that, you can apply various ideas in order to make your abode beautiful which in turn would give you a wonderful feeling.
1. Organizing your home with a red credenza
Spring cleaning is popular in every home and in the first few days of the spring most homeowners try to clear the clutter that has settled during winters. You can use a red credenza and organize your important things in it.
2. Place bright dinner set
A great way to usher in spring into your dining room is used brightly colored dinner sets. This tableware in bright colors would zap up the family mood during meal times and bring in the freshness from the outdoors.
3. Decorating flowers using a Talia vase
The best thing about spring is that you have fresh, vibrant flowers growing everywhere. If you have a garden you can collect the fresh flowers and put them in Talia vases around the house. This would spread the fresh smell of spring in your home and make each room look lovely.
4. Buy garden pots for your home
Beautiful clay made garden pots brighten up your garden. During the spring you can take these garden pots and color them in your favorite vibrant colors. These garden pots can have hand painted flowers on them too. Then you can place them in different areas of your home, including your kitchen where they can be used to store fruits on the dinner table.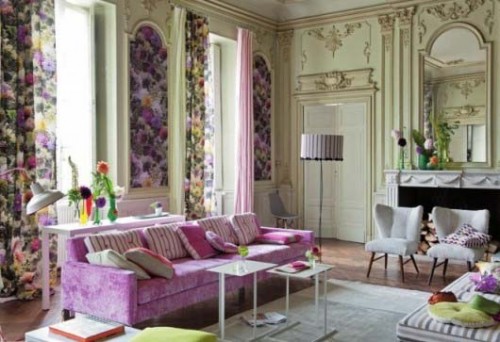 5. Adding a personal style to your rubber mats
Since monsoons are not far away you can use rubber mats with your family name in it and place it just in front of the porch. Otherwise, you can also write something funny which would make your guests smile each time he visits you.
6. Using a wall decal with a spring theme
Have you thought about using a wall decal with a spring theme in your bedroom? Within a few minutes and using little effort the ambience in your room would change.
7. Getting rid of dull napkins
The vibrant spring season is in. This can be showcased by removing the dull napkins and replacing them with bright napkins in bold pop colors or ones have great flower prints on them.
8. Investing in scented candles
You can spice up the room with scented candles. These candles are easily available at your favorite online stores. You can select a mild scented one which would usher in the smell of fresh spring into your rooms.
9. Decorating the room with floral lampshades
Floral lampshades in any form add a great beauty to the room decors. They come in large varieties and you can select one which best suits your pocket.
10. Opt for organic blankets
In the early days of the spring seasons the nights are still chilly. One of the 10 decorating ideas for springwould be to use a blanket which is organic in nature during the night and these blankets come in great warm colors.