Planning a deck update and seeing that it is done in a proper way is not an easy task as it seems to be. The main purpose of updating a deck is to give it a new and refreshing look when it looks drained and dull? Here are 10 amazing ways in which you can give your deck a much needed refreshing boost.
1. Clean it up and spend time on repairing the deck
For the deck to stand strongly against weather elements like heavy winds and floods; you need to take time to create a solid foundation. Even if you try covering up the tattered portion of the deck with cosmetic changes, the deck easily gives way. It is not a long lasting solution to mend the deck. The deplorable situation of decks which display dirty and grimy boards needs to be set right. Just like how you white wash walls every year, same way deck floors need to be restrained each year and the flooring needs to be given a coat of vinyl varnish. This makes sure your deck is well maintained.
2. Upholstery
The deck also offers space to relax and unwind during the evenings. This is in terms of decks offering bench like spaces. To add a stylish dash and décor to the deck comprising of wooden compartments, you can add pillow covers and cushion covers. That evening cup of tea on the lounge area or garden with an upholstered deck makes life worth living.
3. Railing your deck
You can add a railing to your deck space to make it a cozy and a safe enclosure. The railing or rather fencing prevents the deck floors from breaking up on adverse weather conditions. The railing helps you to organize garden activities such as planting small shrubs, fixing bird feeders, etc. You can set up the deck space for organizing stylish cocktail parties as well.
4. Add life to the deck with attractive foliage
You can add life to the deck whether it is made of wooden flooring or just has a bench. Attractive foliage can enliven the space. You can plant colorful flowers and bushes around the deck area to add to the beautiful look of your portico. But make sure you place the flower pots or plants slightly away from the wooden floor as regular watering of plants causes the wood floor to rot.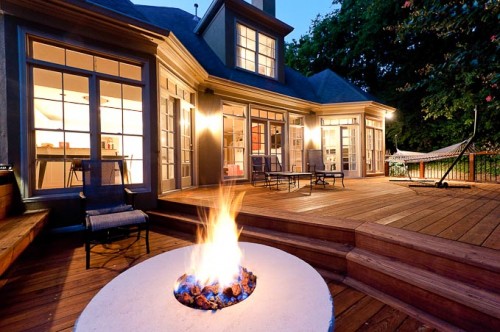 5. Add a style statement to railed deck floors
Deck floors which have been railed need not always be a standalone space. You can add ethnicity to the wooden deck which has been railed. To enhance the appearance of your deck, make use of spindles and decorative balls. These are few of the specialty products to embellish deck floors. You can enquire for more from a retail establishment dealing with these kinds of products.
6. Extend your living area with the help of deck space
You can extend the living space on the deck area by placing appropriate furniture and fixtures around the same. You can entertain guests and friends for a high tea party or a casual get together. You can use the furnishings and fixtures for dining, grilling and lounging.
7. Make the deck area sound proof
A weather proof outdoor sound system is a finishing touch to organize a quiet evening party. The sound proof atmosphere prevents outside traffic noise from entering the deck space. And you can enjoy the serenity of the space more during the warmer months.
8. Add a private swimming pool to the deck
You can make your deck as inviting as possible. You can add a small swimming bay by including a bath tub which can be conveniently fitted in any corner of the deck area. To ensure privacy, you can place tall plants, mature trees or even a screened gazebo around the bath area.
9. Polish the edges
You can paint the edges of the deck area as well as the walls surrounding the same. Use crimson red or plain white to give the deck space a posh look.
10. Make the deck area an excursion spot
You want to have a picnic? Why not create the atmosphere at home itself. You can use the deck area placed in the garden to create a picture perfect excursion spot. Include an outdoor kitchen with grill, sink area, under-counter refrigerator, wine cooler and eating area. You are thus ready to go!
With these amazing ideas on how to update your deck, you can make your home a better place to live in.