Some amazing looking structures have been created by using pallets over the years – from swanky pads to emergency housing.  One can find pallet architecture in standard sizes in every country and usually these come for free or for a few dollars apiece. Given below are some amazing examples of pallet architecture.
Emergency shelter
I-Beam Design, a New York firm was working on an emergency housing design when they took into consideration to use shipping pallets as materials. These can be found anywhere in the world and come as a pervasive building blocks that can be used easily in building a shelter. With a few basic tools, a pallet architecture shelter can be constructed in a day's time and further can be upgraded with insulation for a more permanent housing experience.
Jellyfish Theatre
For making temporary structures, shipping pallets can be an excellent and inexpensive medium. As one doesn't expect a lot from these in the long-run, this material can be of great help in forming basic structures quickly like London's Jellyfish Theatre. Back in summer '10, this construction was up and running and could seat as many as 120 people easily for its performance.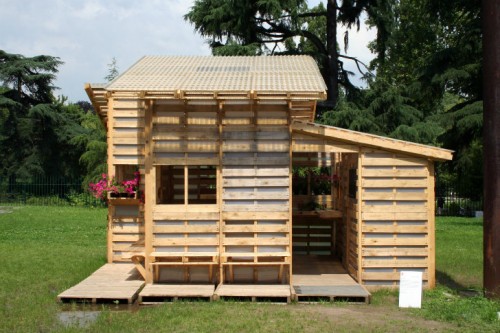 Office in Amsterdam
If one is thinking of upgrading their interiors, then they should not be looking any further as pallet architecture is here to stay for a long time. Shipping pallets can be used in building a great number of furniture including desks, walls, shelves, tables and seating. Most architecture for example, designed the interiors of advertising agency Brandbase in Amsterdam. The sustainable, creative and economical office was built only by using 270 shipping pallets.
Pallet Garden, Canada
One should be taking their design ideas outside their garden so as to form walls, planters, structures and walkways by simply using shipping pallets. Visitors were enthralled by Design Studio Inc. at the Blooms Garden Festival, Canada with their super fun and funky shipping pallet garden.
Affordable Pallenten Haus
Pallenten Haus, a German firm has recently been focusing their efforts on building affordable housing by using shipping pallets. Their first offering was modular pallet house which was exhibited in a number of countries across Europe. It is quite efficient in its energy usage and highly affordable as far as the materials are concerned. This house offers 655 sq. ft. of open space. Around 800 pallets were used and cost about €8 per pallet.
Casa Manifesto, Chile
James & Mau designed this modern and gorgeous home that includes a rain screen and shipping containers. The screen allows the home to cool down naturally by letting air to move comfortably around the architecture. A geothermal pump system is used to heat and cool it down. It comes with a price tag €80000.