There are many things that need to be carried while designing the modern architecture homes. All the homes build on the modern architecture these days are distinctive and unique then the traditional homes. The stretch is now more given on the design and structures rather its beauty and appearance. All the modern homes now use more energy efficient techniques and power saving resources which are environmental friendly. These days, the stress is more given on the environmental issues considering the impact of the Global Warming.
A home built with an eco friendly design and environmental friendly materials offers better space, and energy conservation which are the needs of today's world. The modern architecture homes make the construction keeping in mind the aesthetic value of the structure with its design and art. The aesthetic value of the building is defined by the structure's size, design and open space. Today, because of the lack of space these homes are built on limited area and that is why it is more important for the architects to use the limited space wisely.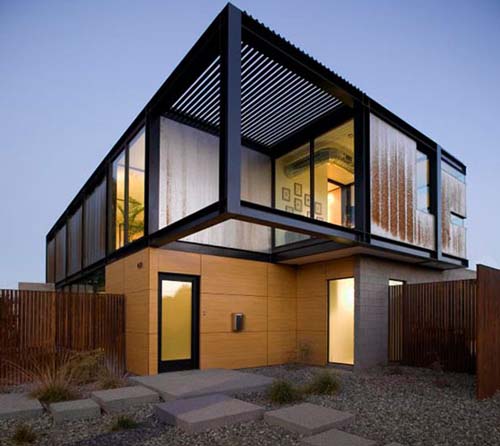 Use of ventilation and natural lighting in modern architecture homes
Ventilation and natural lighting are two of the most important aspects of the modern home architecture. The design of a home must have an adequate space for ventilation and inflow of the natural light. The ventilation allows free flow of air inside the house which makes it more fresh and healthy. Also with the proper ventilation, the use of air conditioning could be minimized. This not only helps in the energy conservation, but also reduces the carbon emission.
The dynamic window design
Nowadays, you may have noticed that the size of windows in modern architecture homes is normally much larger than those of the traditional or contemporary homes. The windows are now built on the larger frames which allows extensive amount of natural light to come inside the house. Also the number of windows in homes these days is also extended to accommodate more light and air inside the rooms.
Modern layout plans
Homes are not just used for the shelter, but they are also a place for social activities. Nowadays, the trend of studio apartments and studio bungalows are very common. These are spacious as well as much comfortable for small families. The studio design consists of joint living rooms and bedrooms and seamless designs for the exteriors. Also the interiors are now much more proficient and environmental friendly. The walls are made of coral reef solutions and painted with washable eco friendly paints. The roof top has the latest design for rain water harvesting system to reduce the use of underground water.
Also, in the modern architecture homes the use of wood, molded fiber and eco friendly materials is much used apart from concrete to maintain mild climate in all weather conditions.