Preservation of natural environment is possible only if its significance is emphasised in all sectors of life.Construction or renovation of residential structures is a continuous work that goes on this Earth. Incorporation of eco-friendly architecture ideas to the constructions going on throughout the world can be significant steps towards sustainability. Interestingly, eco-friendly architecture designs are beneficial for people from every perspective too. Some innovations are mentioned in this regard.
Studio 804 design – Studio 804 has designed a house in Kansas that seems clad in wood.The designers demolished magazine building of an ammunition plant and recycled its wood to reuse it for the house's exterior.The barn-like facade of the building protects its glass walls and discreetly regulates heat and light inside the building. Vertical axis wind turbine, kitchen cabinets and countertops of composite recycled papers, floors of gyp-crete, grey water recycler,windspire, solar panels, geothermal heating/cooling, etc. are few of the sustainable features of the design.The house has obtained LEED certificate.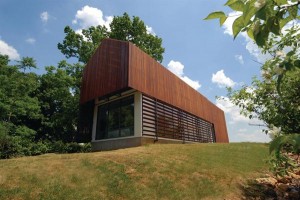 Clei design – The innovation by Clei is named Green Kinder House, which is touted to be zero-impact house in terms of ecology. The upper portion of the house is painted green and the rest of it is white.Its recessed windows do not compromise natural light or views but still maintains privacy. Interiors are small but the intricate arrangement utilises every centimeter of space that make it seem larger than it is. Foldable sofas, retractable bed, linear kitchen, etc. are the features that almost perfectly compliment the house.
Stonewalled multilevel house – This house has been erected in Italy. It has several doors, stone walls, wooden beams and overall white finish. Ceilings are of standard height. In the kitchen, there is a deck-island that is madeof stainless steel and provides sufficient space for all the kitchen requirements. Ceiling has been excluded on either sides of the kitchen to reveal the 2 stores of the house and let adequate light in. It makes the entire structure more airy in the interior too. To add the final finish to the house, there is a large swimming pool adjacent to the building.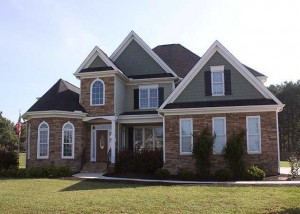 These are some of the few innovations that have the potential of sustainability. Their designs are such that saves energy, water and regulates temperature inside the house. Eco-friendly architecture ideas include use of solar and wind energy, rain water harvest, recycled products that are reusable too and many more such features. However, it might not be possible to include all types of tested eco friendly architecture ideas into a single design due to the dependence upon geography and climate of the region.Eco-friendliness is a relative measurement.